---
A close collaboration between builder and designer created a home where every space suits the realities of family life.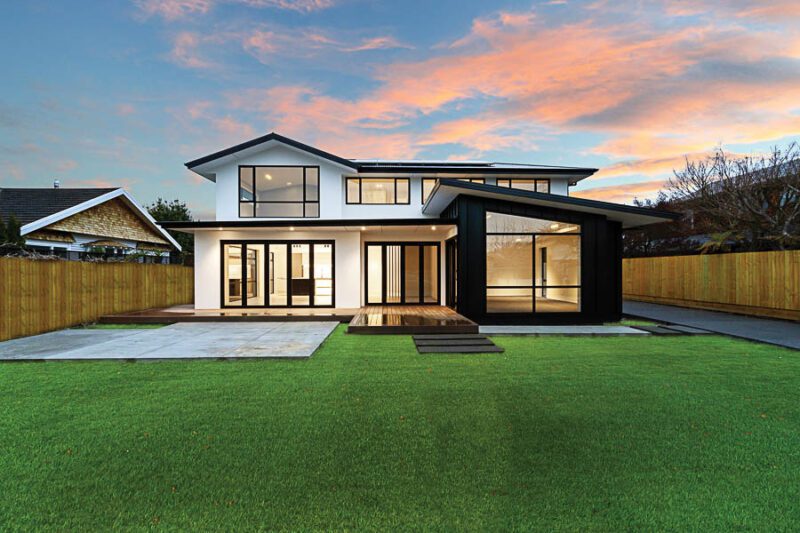 James and Micayela Hunter have three daughters and their new St Albans home passed the ultimate functional test – a birthday sleepover for 10.
An architectural designer, James has worked with Daryl Hewitt of DJ Hewitt Builders for 15 years; their common bond being exceptional attention to detail.
Light, bright and open plan with a 2.7m stud, cedar fins greet at the front door. Past the wide entrance, office and separate lounge, American Oak fins also form the stairwell and partitioning to a cosy dining area – linking spaces with personality.
Doorways were intentionally kept to a minimum for easy-living flow between spaces. Adjacent to the living area and open-plan kitchen with a steel-framed island, a zigzag walkway leads to a private powder room, laundry and three-car garage.
It was an engineering design achievement for the 5.5m of timber fins connecting the second floor. The landing sports an extra-wide hallway for siblings to run past each other to the four bedrooms, hobby nook, and fully tiled bathroom.
"Daryl's passion and enthusiasm for building is contagious, nothing is ever a problem and the quality of workmanship is exceptional!" Micayela says. "I am truly delighted."
"It was a whole-team project – evereryone was so organised. It wasn't at all stressful, and everything was finished a week ahead of schedule, giving us more time to move in."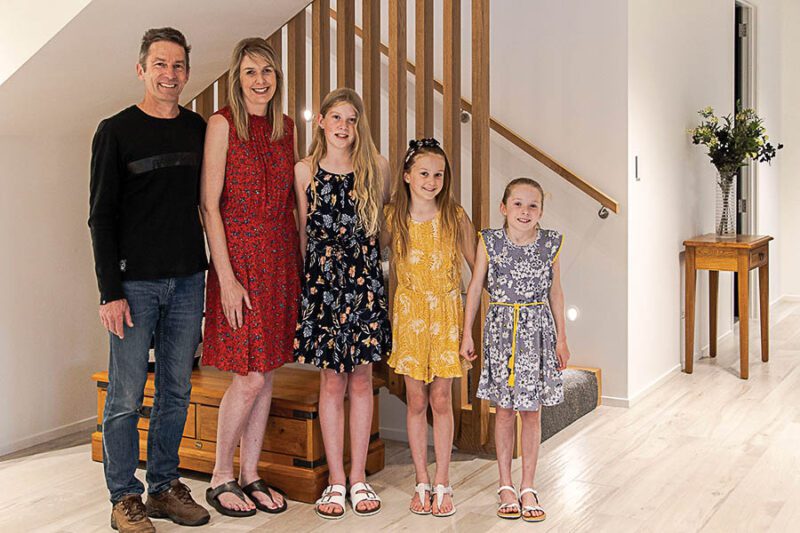 She's enjoying her walk-in wardrobe with a light-filled picture window, and ensuite with a double shower and double sink.
The interior consultant, Daryl's wife Tara, balanced monochromatic tones throughout, and chose a stunning textured-tile backdrop in the kitchen. "In the walk-in pantry she cleverly suggested a window between the bench and the shelves instead of a splashback."
The 356sqm Rockcote-clad and standing seem steel home has PV solar panels, and underfloor heating. LowE glass and larger eaves keep heat out and warmth in, and foundation-ring insulation was another savvy cost-saving investment.
"It was an evolving project," James says.
"Too many builds just keep to minimum standard. Everything exceeds minimum here – you have to love what you build!"
---