---
Terminator, Aliens, The Abyss, Avatar, Titanic… There's a bit of a theme to Oscar-winning Director James Cameron's movies. "He's kind of a doomsday kind of guy," his wife Suzy Amis Cameron laughs.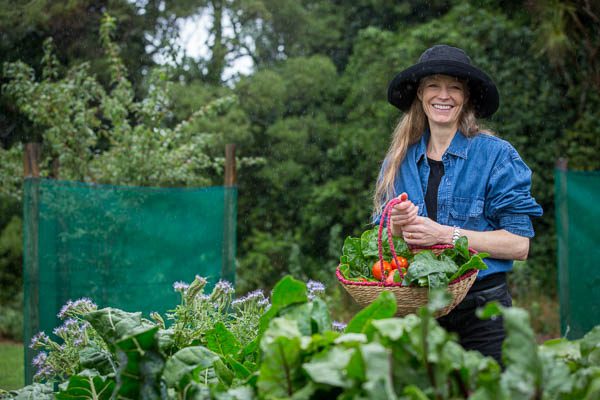 "So his films are all about death and destruction and he does not use the word 'hope'. He has a t shirt that says 'hope is not a strategy' and he wears it regularly." But then one movie changed their lives – Forks Over Knives.
Now the Camerons have 'hope' that we can save the world and they're not afraid to share why – plant-based eating. Soon after the couple watched the environmental film, they were walking on the beach when James turned to Suzy and said 'for the first time in my life, I have hope', she recalls.
"Well needless to say, I nearly fell into the surf, but he said, 'the more we can inspire people to eat plant-based, the more we can move the needle on climate change' and it was absolutely in that moment I knew that was my calling; I knew that I wanted to write a book, I wanted to create content to inspire people and educate about the detrimental effect of animal agriculture. "We want to be able to have healthy families, a healthy planet and healthy bodies."
A New Zealand resident sharing her time between here and the US, Suzy headed down our way for 'Sustainable Protein: Healthy People and Planet', a panel discussion alongside Governor-General Rt Hon Dame Patsy Reddy in Tai Tapu last month before she had to "blast back to the United States" for a family emergency.
Hosted by Blinc Innovation, the discussion centred around the evolution of dinner plates across the world, with conscious consumers thinking about the impact their choices are having on the planet and how innovation in food production – particularly plant-based proteins – may just be the key to unlocking sustainability. "Healthy people and planet is a subject that goes deep in my heart," she says.
Suzy grew up on a farm in Oklahoma with a pet horse Toby and eating eggs and bacon. But with heart disease, cancer, type 2 diabetes and arthritis in both hers and James' families and James' health getting to a point where doctors were encouraging heart medications, they were ready for a change.
On 7 May 2012 they watched Forks Over Knives and within 24 hours, they had cleaned out their kitchen. "I felt betrayed that we had been told our whole lives that we need meat for strong bodies and we need milk for strong bones, and this movie basically says it's completely the opposite of that.
"It was a very pivotal moment in our lives," she explains. It was a double whammy. Suddenly she learned not only were meat and dairy not integral to a healthy diet, but that their production was also the second leading cause of greenhouse gases and climate change – more than all transportation combined.
In 2005, Suzy had joined forces with her sister Rebecca Amis to found MUSE School in California, the first school in the US to be solar powered, zero waste, with an organic, plant-based lunch programme. Students ate grass-fed beef, free-range chicken, all dairy was completely organic and they were growing much of their own produce. But in the fall of 2013, like the Camerons themselves, MUSE went plant-based. "When we went plant-based it was full on mutiny," Suzy says. "We lost about 50 percent of our families."
One day shortly after going plant-based, the head of the school Jeff King got frustrated and said 'People! You can feed them whatever you want to in the morning and whatever you want to in the evening, it's one meal a day. It's OMD!' That became the title and core theme of Suzy's book, the idea that simply swapping one meal a day with a plant-based meal can "save your health, save your waistline and save the planet".
When James and Suzy went plant-based, they did a complete 180 on multiple levels. In fact, they started to look at every investment and every business they ventured into from "a plant-based lens". They've invested heavily in a plant-based protein factory called Verdient Foods Inc. and partnered with the University of Saskatchewan to create food products, which are about to be officially launched.
The couple believe that food innovation is key to feeding a forecasted population of 10 billion people by 2050 and, with one acre able to produce 60,000 pounds of produce and the same acre only able to produce 37.6 pounds of beef, perhaps it is food for thought.
"When you're thinking about feeding all of these people and taking care of the environment and taking care of your health, vegetables are the silver bullet," she says. "Eating plant-based, it doesn't matter if it's for the animals, health, the environment, your waistline… everybody wins.
"I implore you to try OMD and to change one of your meals a day, because if we don't do something for the environment, it won't matter if we have environmental schools, if we have dress design contests, eco clothes, have electric cars, none of that will matter if we don't have a planet to live on."
---