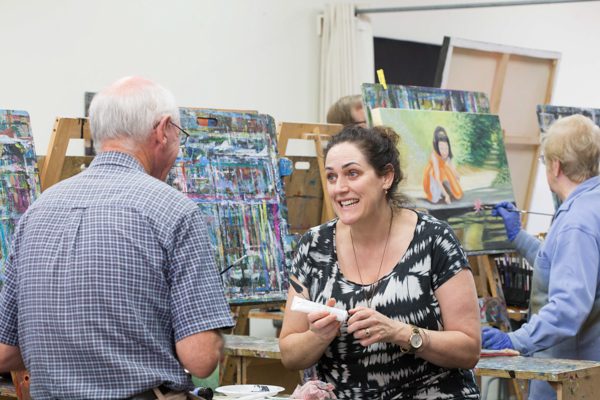 Easel-y the best: it's never too late to start, learn to be an artist at Art Metro
Sarah Garland and Rodolfo Lopez began tutoring at Art Metro this year. We coax them from their easels to talk about why they love their jobs.
"I get to look at art all day and talk with the lovely students," says Sarah. "Seeing works progress – it's nice to know I can positively impact development."
Sarah, who has a degree in Art History and in Fine Arts, tutors both beginners and advanced students, and is comfortable teaching all genres.
Visual art tutor and freelance professional animator, Rodolfo, says the diverse skill levels and interests of his students are both enjoyable and challenging. "It forces me to recall some of the techniques I learned and problems I encountered while working on my own projects."
Sarah has great advice for beginners. "Try not to be apprehensive! We can break down the elements of a painting into manageable, achievable chunks. You will find success; everyone here is very positive and encouraging!"
Rodolfo's advice to those returning to art after time out is to get back to basics. "Instead of creating a big masterpiece, do small studies; it will help get the feel of the essential skills and technicalities in painting."
Sarah's personal preferred medium is oils. "My style? Earnest contemporary figurative painting!"
Rodolfo's favourite artist is Frank Frazetta. "Great art tells a story, evokes emotions, creates an imprint – it compels us to look again and again."
Interview over, Sarah and Rodolfo rush back to their beloved easels. For more information, visit
www.artmetro.co.nz.