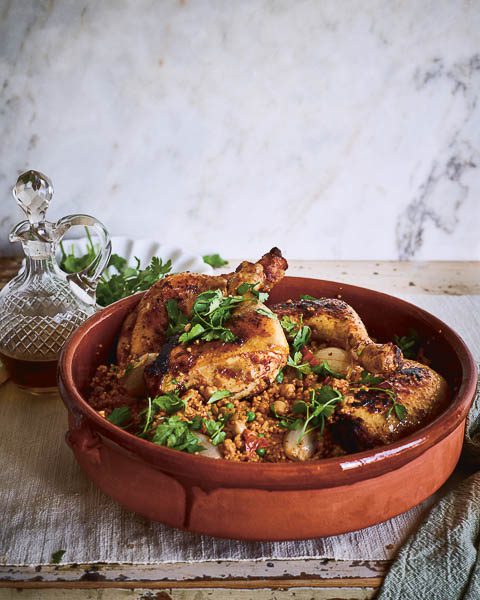 "Dirty" bulgur with roast chicken (Red bulgur bi jara)
---
This dish was originally prepared in a clay pot, hence the term "bi jara", or "from the clay oven" in the recipe's name. My version differs from the original, not only in that I have used a regular saucepan instead of a clay pot, but also because I have 'dirtied' the rice. A friend of mine inspired me with his dirty rice recipe, where he mixed rice with vegetables and a lot of spices. The chicken is marinated first in the same Mediterranean seasonings that I would later use for the bulgur – each reinforcing the other.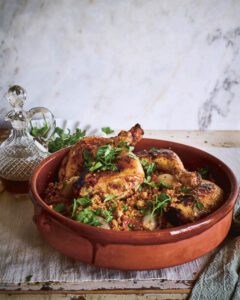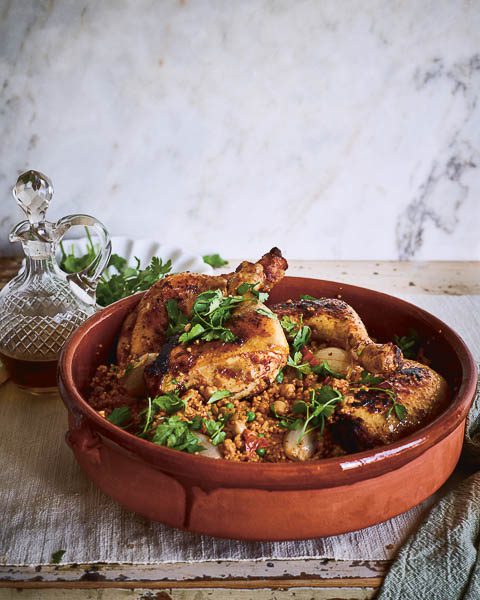 Ingredients 
2 chicken legs (drumsticks)
For the marinade
1 tablespoon of olive oil
1 tablespoon of tomato paste
½ teaspoon of ground coriander
½ teaspoon of cayenne pepper
½ teaspoon of ground cumin
Salt and pepper
For the bulgur
200 g (7 oz) of coarse bulgur
Boiling water
3 tablespoons of olive oil
4 French shallots (peeled and whole)
2 garlic cloves (pressed)
1 tablespoon of tomato paste 1 teaspoon of ground coriander
1 teaspoon of cayenne pepper
½ teaspoon of ground cumin
400 g (14 oz) of tinned tomatoes (cubed)
200 ml (7 fl oz) of chicken stock
Salt and pepper
200 g (7 oz) of tinned chickpeas (rinsed)
150 g (1 cup) of frozen peas
To garnish
1 handful of flat-leaf parsley
(chopped)
Preparation
Put the chicken in a sealable freezer bag with the olive oil, tomato paste, ground coriander, cayenne pepper, ground cumin, salt and pepper. Seal the bag and rub all the marinade ingredients into the chicken. Marinate in the refrigerator for at least 2 hours or overnight.
Heat the oven to 200°C (400°F).
Place the chicken in an ovenproof baking dish. Pour the marinade over the chicken, cover with aluminium foil and bake for 30 minutes. Turn the grill (broiler) on, remove the foil and cook the chicken for another 10 minutes, until golden brown.
Make the bulgur while the chicken is baking in the oven. Pour the bulgur into a bowl and add boiling water to cover. Soak the bulgur for 5 minutes.
In a large frying pan, heat the olive oil on medium heat. Fry the shallots for 3 minutes until golden yellow. Add the garlic and fry for another 2 minutes. Stir in the tomato paste, ground coriander, cayenne pepper and ground cumin. Continue cooking the sauce until browned. This intensifies the flavour.
Add the cubed tomatoes, the soaked bulgur and the chicken stock. Salt and pepper to taste. Stir, cover and simmer for 15 minutes. Check the bulgur regularly and add some more water or stock if the cooking liquid evaporates too quickly.
After the bulgur has cooked, stir in the chickpeas and the frozen peas. Warm the entire dish for a couple of minutes. Take the pan off the burner, cover and let the whole dish rest for 5 minutes before serving.
Serve the bulgur warm in a dish with the roasted chicken. Garnish liberally with fresh parsley.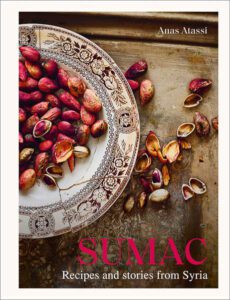 ---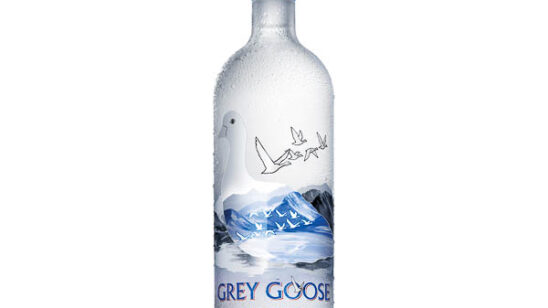 Previous Post