---
Truffles are an easy recipe that will reap many brownie points from your Valentine this year, especially when you personalise them with their favourite flavour combo.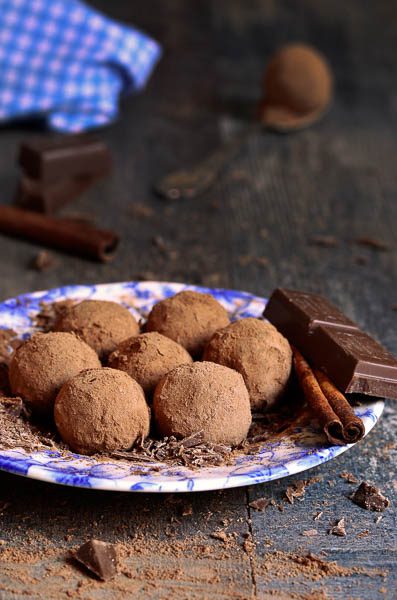 INGREDIENTS
250g high quality dark chocolate (62 percent cacao or higher)
1/2 cup of heavy whipping cream
1 teaspoon of vanilla extract
OPTIONAL FLAVOUR FUSIONS
Mint leaves (chopped with stems removed, about 1 cup)
Cinnamon and cardamom (1 cinnamon stick, 2 cardamom pods)
Amaretto (1-2 tablespoons)
Espresso powder (1 tablespoon) and coffee liqueur (1 tablespoon)
Hazelnut essence (1/2 teaspoon) and toasted chopped hazelnuts
Orange oil (1/8 teaspoon) and orange liqueur (1-2 tablespoons)
OPTIONAL COATINGS
Truffle coatings
Cocoa powder
Finely chopped hazelnuts
Finely chopped almonds
Chocolate sprinkles
Drizzle with melted chocolate
METHOD
In a small, heavy saucepan bring the heavy whipping cream to a simmer (stir and scrape down the sides with a spatula every few minutes).
If you are using one of the optional flavour fusions, stir it in with the cream (and ignore vanilla in the next step). If adding mint or other solids, after the cream simmers, remove from heat and let seep for an hour. Strain away any solids and return the cream to a simmer before proceeding with the recipe.
Ganache:
Chop the chocolate into small pieces and place it in a separate bowl. Pour the hot cream over the chocolate and add the vanilla. Allow to stand for a few minutes then stir until smooth.
Allow the ganache to cool, then place in the refrigerator for two hours.
Use a teaspoon to roll out balls of the ganache. Roll in your hands quickly (as it will melt from the heat of your hands), then roll them in your optional coatings.
Place the truffles on a baking sheet lined with parchment paper and put them in the refrigerator overnight.
---