---
Whether you've got leftover brownie or cake to use up, or you make one from scratch, this rich Black Forest is a treat to tempt any Valentine.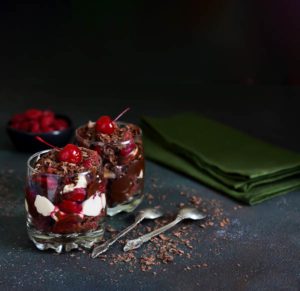 INGREDIENTS
Cake and cherry mix
4 slices of chocolate cake or brownie
2 tablespoons of a cherry liqueur
410g can of pitted black cherries
2 tablespoons white sugar
1 stick of cinnamon
2 teaspoons cornflour
4 scoops vanilla ice cream
Chocolate Sauce
100g chocolate, melted
1/2 cup of cream
METHOD
Cake and cherry mix
Break cake or brownie into small pieces, sprinkle with cherry liqueur and set aside.
Drain and reserve half a cup of liquid from the pitted black cherries. Place 1/2 cup of the cherry syrup in a saucepan with white sugar and the cinnamon stick. Cook over a medium heat, stirring constantly until the sugar is completely dissolved. Bring this to the boil, before removing from heat.
Dissolve the two teaspoons of cornflour in one tablespoon of water, then add this cornflour mixture to the cherry syrup mixture and cook over a medium heat until sauce boils and thickens.
Remove pan from heat, discard cinnamon stick, then stir in cherries and set aside.
Sauce
Combine melted chocolate and cream in a small bowl and mix well.
TO SERVE
Place half the cake into the base of four individual serving glasses.
Add half the cherry mixture to each glass, then top with remaining cake and cherry mixture. Place a scoop of ice cream on top then pour over chocolate sauce.
Serve immediately.
---