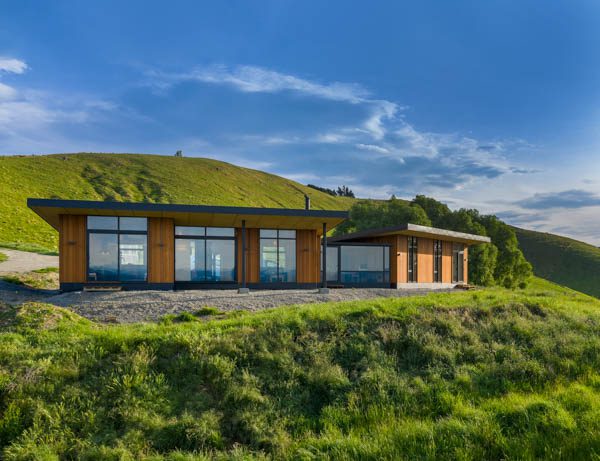 Creative collaboration: Totem Studio Architects x Greenroom Carpentry
---
"It was the collaboration between us as architects, the builder, Greenroom Carpentry and the clients that made this project so enjoyable and ultimately so successfully achieved."

It is obvious that Ian Cattoen-Gilbert of Totem Studio Architects is more than keen to discuss the house near Cheviot his practice designed.
"This was a first family home for our clients. We set out to give them an architectural house, but at a family price. It also needed to be a house that was in harmony with its stunning location on a low plateau overlooking the Cheviot Plains and that made the best use of honest, intuitive materials – cedar, plywood and concrete."
The final design can only be described as a triumph. The cedar weather-board house has sharp clean lines that fit in the rural setting, but the simplicity is deceiving.
"For me the best architecture is simple things done well with flair and precision. The cedar boards are of random widths to give texture; the plywood is a continuous skin as it curves up to the interior ceiling and to the soffits outside, while the dark aggregate of the polished concrete floors echoes the quarry outside and the black and stainless steel features of the kitchen inside. I'm proud of this house because it's not extravagant, but nevertheless it's a little bit exceptional and unique to the clients."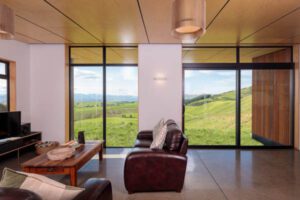 The project was special for Mike Thomas of Greenroom Carpentry too.
"The clients are long-time friends of mine. They shoulder-tapped me to build their home as they knew I had trained as an architectural builder. This was my first full-project management job from earthworks and foundations to construction. It was a learning curve – but exceptionally enjoyable. It was wonderful working in the countryside and with Ian from Totem to realise a dream for my friends. Having had a taste of it I certainly want to do more of this kind of work in the future."
Mike says what he found particularly satisfying from a builder's perspective was turning all the design details incorporated by Totem into practical reality.
"I'm pretty creative myself and really appreciated working with what Ian had envisaged. "The curved plywood was a challenge, but through all of us combining our thinking we were able to make it work and there is no doubt it is a wonderful feature."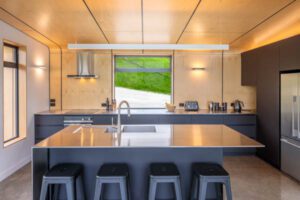 ---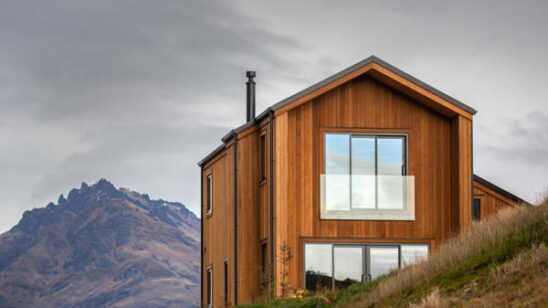 Previous Post