---
A healthier twist on an old favourite, this Coco Crackles recipe uses Blue Frog's latest release, Coco Munch. It tastes ridiculously good and contains 60 percent less sugar than market competitors.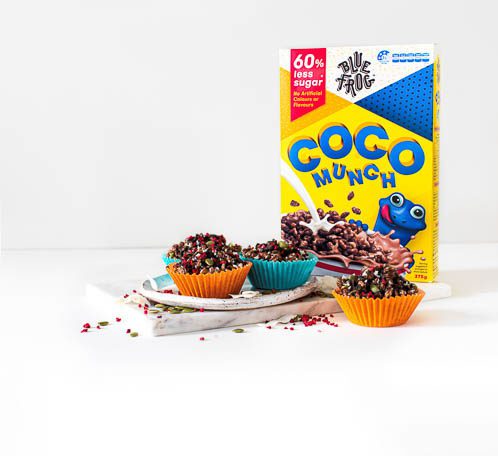 INGREDIENTS
3 cups Coco Munch
170g coconut oil
1 cup desiccated coconut
12 pieces dark chocolate
1/2 cup pumpkin seeds
Freeze-dried raspberries (crushed a little)
METHOD
Melt the coconut oil in a saucepan. Mix Coco Munch, desiccated coconut and pumpkin seeds together in a bowl, add melted coconut oil and mix well. Spoon the mixture into patty cake papers.


---

Melt dark chocolate in the microwave until runny. Drizzle half a teaspoon on top of each crackle cake and then decorate with freeze dried raspberries (or any toppings of your fancy).


---

Refrigerate until set (30 minutes) and enjoy!
---