---
With a decadent tipple in one hand, and a mouth-watering titbit in the other, our taste buds are racing to celebrate Cup Week. Putting on a perfect soiree is all in the creativity, so here is Metropol's inspiration for cocktails and canapes to carry you through pre- and post-races celebrations.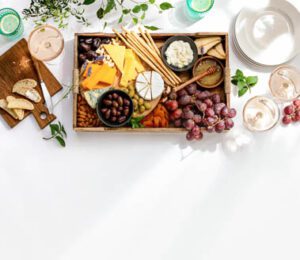 SEASONAL SUCCULENCE
Mini whitebait patties with a squeeze of lemon will barely last two minutes on the platter. Asparagus is spring in a spear. Serve into bite-sized sandwich rolls, adorn an aioli-smeared canapé, or bake into baby quiches.
FASCINATOR-STYLE GARNISH
Add colour, such as showy peppery nasturtium flowers and other edible petals. Microgreens are little health bombs that pile up in their greenest finery. Slithers of red pepper, threads of saffron, jewel-like pomegranate seeds, all flaunt finesse.
CLASSIC AND CLASSY
A cliché of posh nosh is smoked salmon, hot or cold smoked, it's an intense little morsel. With capers, dill, wakame or wasabi aioli upon homemade blinis or pikelets, they send taste-buds to the finish line. Add caviar or truffle flakes to up the stakes.
VEGAN IN STYLE
From artisan vegan salamis to rich cashew nut patés, plant-world cuisine is glamming it. Splash out on lovingly crafted delicious vegan cheeses upon vegan crackers. Fill spring rolls with colours of the rainbow, and use rich mouth-filling aubergines in dips.
RACE DAY DELICACIES
An aesthetically pleasing platter is never out of place – and often disappears at race pace. Combine seasonal fruits and veges, with your favourite cheeses, olives, dips, crackers and fresh bread to create a Pinterest-worthy spread.
MOCKTAIL MOJO
Go mad with frivolously fruity concoctions – just omit the alcohol for a virgin variety of the spiked alternative. For a virgin mojito, muddle sparkling water, lime juice, sugar or honey syrup, and dress up with fresh mint and cucumber.
BOUTIQUE SPIRITS
Buy a bottle of hand-crafted gin to show off a classic cocktail. Try a French 75, martini, or a sloe gin fizz and decide a winner. Support the spirit of locally made tipples from vodkas to whiskys and dress them up cocktail style, with a glamorous garnish.
FANCY PANTS CHAMPAGNE
Pretty and effervescent best-dressed ladies, get creative with easy cocktails of the bubbly kind. Enhance the elegance of fine fizz with springtime splashes such as elderflower liquor, or for a classic Champagne Royale add crème de cassis.
---