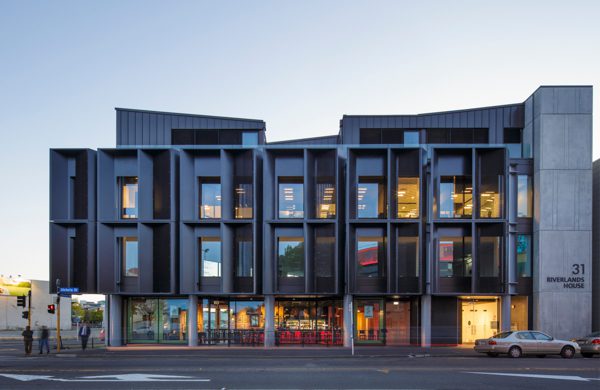 Clever corner construction: Riverlands House an outstanding triumph for Warren & Mahoney and ABL Construction
Handsome new commercial build Riverlands House is anchored on the corner of Victoria and Kilmore Streets, with prow pointed like an ocean liner toward the Port Hills. It is a striking addition to this prominent corner and shortlisted for the Commercial Category of the New Zealand Institute of Architecture (NZIA) Canterbury awards. The original building sat back on the site, but new city rules enabled the building to come forward to directly interface with the corner.
Chris Dopheide, Architect at Warren and Mahoney Architects, says the building is a strong example of how to make the best use of a smaller inner-city site, with hospitality at ground floor level, offices in mid-levels and topped off with apartments, to provide living/working units.
Chris says the owner was keen on low maintenance: the external materials are a GRC concrete panel system on the Kilmore Street façade which is lightweight and efficient to construct and maintain. The Victoria Street frontage is faced with striking mesh-pattern panels to control the glare from morning sunlight streaming into the office areas. The top floor apartment is clad in Euroline Seamlock, again a practical, hardy, modular system that can be readily adapted.
Lead contractor for the project was South Island owned and operated ABL Construction (Amalgamated Builders Ltd) and General Manager Canterbury Michael Johnson says the synergies between the two multi-award-winning firms made their involvement a no-brainer.
"It's been an absolute pleasure working with Warren and Mahoney, especially on such a high-quality project," he says.
"It was a very collaborative environment, with both companies focused on meeting the highest standards."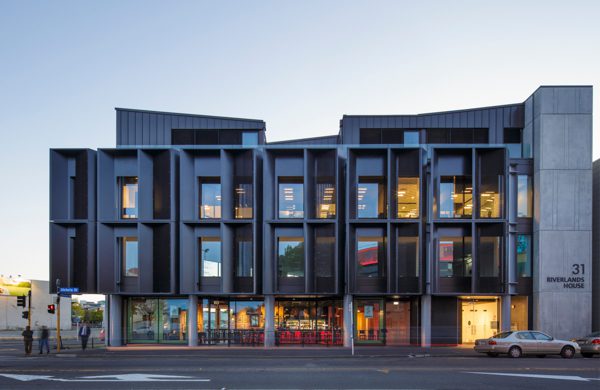 Established in 1961, ABL has achieved some of the highest accolades in the commercial contracting sector, including the New Zealand Commercial Projects Platinum Award – bestowed only on those who have won five or more national titles. The ABL team has won national awards across multiple categories including high end commercial projects, working with some of the country's top architects.
"ABL has been around for 55 years now and during that time, we've been focused on open and transparent communication, working closely with the architect and client to ensure we're delivering the highest quality iteration of exactly what they want.
"The end product speaks of Warren and Mahoney's professional capabilities. They were brilliant to work with and Riverlands House is a fantastic addition to the city streetscape."
The design captures quintessential Christchurch views, and the views from the apartment on top are pretty much 360 degrees. Chris' favourite view is from the master bed and bath over Durham Street to the Port Hills, but the view from the west terrace across Hagley Park to the snow-capped mountains is pretty impressive too.
Project Partners
ABL Construction:
Ph: 03-341 2160
Web: www.abl.co.nz
Warren and Mahoney:
Ph: 03-961 5926
Web: www.warrenandmahoney.com