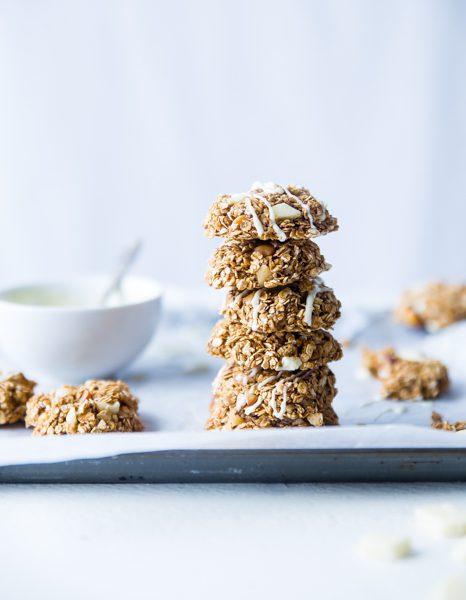 A classic cookie comeback: An awesome ANZAC biscuit recipe you have to try
These clever little creations were made famous during World War I, when loving mothers and pining housewives sent care packages of these golden goodies to New Zealand and Australian soldiers.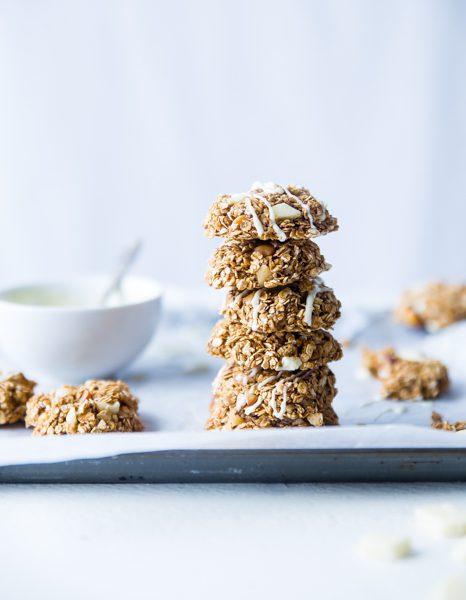 In time for ANZAC Day next month, we've given this classic little cookie a 2018 facelift. A chubby version of its predecessor, this frontline favourite has a chewy middle, a decadent coconut texture and the added crunch of macadamia nuts, topped off with a delicious yoghurt drizzle.
Ingredients
1 cup plain flour
1 cup desiccated coconut
1 cup rolled oats
2/3 cup brown sugar
125g butter
1 tablespoon golden syrup
1 tablespoon manuka honey (or any other kind)
1/2 teaspoon bicarbonate of soda
1 tablespoon boiling water
A handful of crushed macadamia nuts
Yoghurt drizzle
125g white chocolate
2 tablespoons Greek yoghurt
1 teaspoon lemon juice
Method
Preheat oven to 180c. Grease and line a cookie sheet. Place flour, coconut, oats, sugar and nuts in a bowl and mix well. Place butter, golden syrup and honey in a saucepan over low heat until butter has melted.
Combine bicarbonate of soda and boiling water in a small bowl, add to the butter mixture and stir. Pour over oat mixture and mix all the ingredients together.
Roll tablespoonfuls into balls, place on the cookie sheet and flatten each cookie gently with a fork. Bake for approximately 15 minutes or until golden brown. Take care not to overbake which will take away from the chewy centre. Remove from oven and allow to cool.
For the yoghurt drizzle, seal remaining ingredients in a ziplock bag and sit in a mug or bowl of hot water for 5-10 minutes, until white chocolate is melted. Open ziplock and stir to combine, then seal again and twist bag to push mixture into a point.
Make a tiny puncture in tip of bag with a toothpick or knife and squeeze in a zig-zag pattern over cooled biscuits.