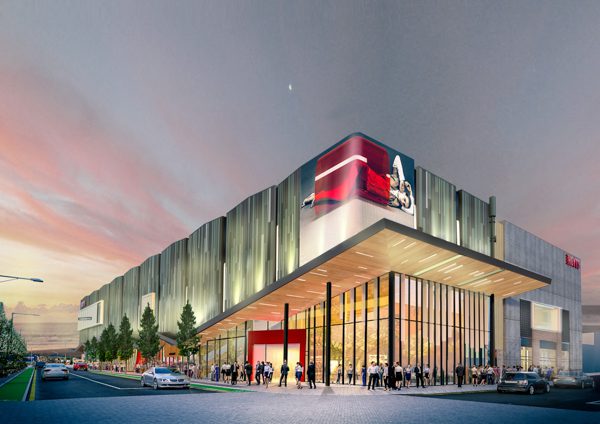 City's world-class cinema complex: Calder Stewart takes the lead on EntX Entertainment Central
A world-class venture by Calder Stewart will soon showcase a very unique entertainment and dining experience in the CBD. The Cantabrian icon with the X-factor is on schedule, on budget, for a September 21 launch – in time for school holidays.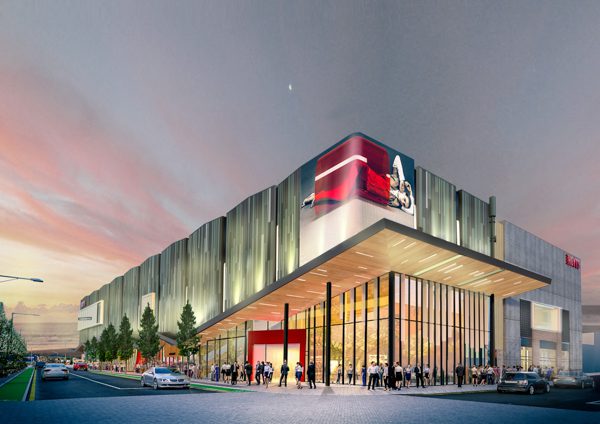 A first for New Zealand, EntX Entertainment Central will house the state-of-the-art Hoyts complex extending between Tuam and Lichfield Streets, with seven cinemas on the first and second stories, and 18 restaurants and bars on the ground floor of a triple-height, 15 metre high atrium.
"After losing Regent on Worcester and the Hoyts 8 complex, Hoyts desired a new inner-city flagship cinema complex. Nothing could compare to this site's location," says Calder Stewart's Project Director Mark Weaver. "It fits well within the overall scheme of the city and will become a popular entertainment destination."
The base build, incorporating a total floor area of 10,500m2, commenced in February 2017, the Hoyts fitout has commenced and the dining tenants' fitouts will begin in July.
Mark says the overall design incorporates a Canterbury landscape theme to create a large glade space and a more enclosed grove area . Supporting columns and the use of recycled timbers reflect the dark forest tree trunks of native Canterbury forest, all weaving amongst an eclectic maze of dining and socialising spaces. "And a spectacular lighting feature will soon be unveiled," he says. Full-height glass windows link into the outside city vibe, a vibrant vista whilst descending the escalator from Hoyts' first floor entrance.
"The ground floor comprises a dining precinct with 18 restaurants representing all four corners of the globe, seating over 400 people comfortably," Mark says. "It's a great place to meet friends for a meal, watch a movie, or just people watch."
EntX expects to be buzzing day and night with every type of dining environment from sociable bar leaners to soft leather couches by a cosy fireplace; world class – with a regional eclectic feel. The design and build project is headed by Mark, Project Manager Matt Peterson, Constructor Manager Jeff Sutherland and their talented team of carpenters.
Outside, the undulating canopy reflects the contours of the Port Hills, harmonising with the roof line of its adjacent neighbour, the Christchurch Bus Exchange. CS Roofing Canterbury was commissioned to supply and install the architectural wall cladding. The premium product, Euro Tray Angle Seam, was used to create the lightweight wall cladding of the atrium sides of the complex. Vertical lines varying in subtly changing shades emulate Canterbury plain's patchwork landscape. "We used our highly skilled, experienced team on time and to budget, using this high-quality product, and met the challenges in the attention to detail required, from measuring and installation to sign off," says Project Manager Shane Johnstone. "We are proud to be involved with such a prominent Christchurch Landmark."
Hoyts cinemas incorporate more than 940 electric reclining seats with super spacious leg room across seven luxury cinemas – two extreme screens with Dolby surround take cinema to an exhilarating new level. For those special occasions, try one of the intimate 40 seat LUX cinemas with a restaurant to seat service.
AMT Mechanical Services strict acoustic requirements within the cinemas was one challenge, including delivery of conditioned air, to maintain patron comfort levels, while meeting very specific noise criteria. This includes large noise attenuators within duct runs, and developing alternate methods to support ducting around acoustic ceilings and walls. "The project has been fully BIM (3D) modelled via our in-house CAD engineers, allowing us to complete clash-analysis early on," says Area Manager Chris Green. "To date we've commissioned four of the cinemas, and are installing mechanical services for the Hoyts kitchens and hospitality tenancies. Preliminary HVAC design commenced in June 2016. and we're extremely excited see the project unfolding and very proud to work with Calder Stewart."
Calder Stewart, predominately involved in industrial design and build development, has its own distribution fleet, access gear, cranes, as well as reinforcing steel, structural steel and concrete panel production plants. This was a cost-effective factor in the $50 million dollar project that utilised 580 tonnes of structural steel.
No stranger to central city development and construction, Calder Stewart also built the new Kathmandu and Vodafone buildings. "Our design and build process is very simple. Tell us what you want to achieve, and we'll work on making it happen," Mark says. "Our vertical supply chain means efficiencies and savings are passed onto our clients and our timeframes are shorter."
As the company transitions from a regional base to a national focus with inroads into the Auckland and Hamilton markets, the latest outstanding new flagship in Christchurch showcases all that can be possible.
Project Partners
CALDER STEWART
Ph: 03 338 0013
Web: www.calderstewart.co.nz
AMT MECHANICAL
Ph: 03 338 0145
Web: www.amtmech.co.nz
CS ROOFING CANTERBURY
Ph: 03 338 0400
Web: www.csroofingcanterbury.co.nz