---
The Christ Church Cathedral reinstatement will be the city's labour of love – and preparations are underway for early 2020, when the action starts.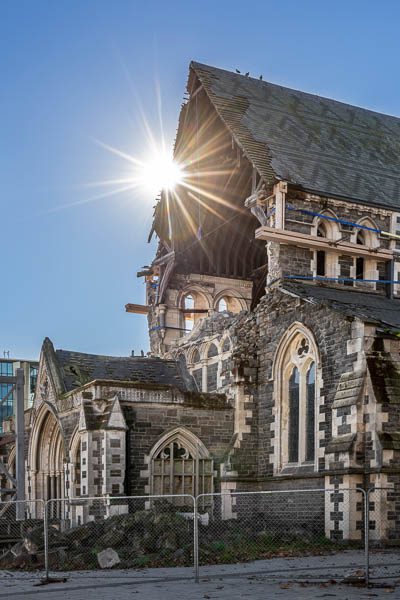 Although nothing appears to be happening at the moment, plenty is going on in the background. Excitement is building at Christ Church Cathedral Reinstatement Project headquarters, where a tight team of up to 10 prepare for the 12 to 18-month initial stabilisation phase. "This is our Notre Dame. It's not your regular doer-upper," Project Director Keith Paterson says.
"A complex job always requires more planning. In the heritage world especially, things take time – and this is the crown in Christchurch's rebuild. We are working through the best ways to make it structurally sound and safe to work in."
The reinstated Cathedral will look similar – only greatly enhanced for the future. "It will provide more flexibility, be far more comfortable and functional," he says.
Expect a warmer place of worship with improved acoustics. The main building will be stabilised and repaired first, then comes the visitor's centre, and finally a new tower – offering the quintessential Christchurch experience of climbing up its stairs once again.
Paterson says waiting this long has its positives, as the industry has had time to develop new techniques and test them throughout the rebuild. "We have to make sure we get it right. It's not the place to take any risks."
The concept design is being fronted by Warren and Mahoney and Holmes Consulting Limited partnership, with input from Rawlinsons. Naylor Love Canterbury has been appointed for construction logistics, methodologies and programme advice, which he says is a good fit with other projects they've been involved in such as Christ's College, Isaac Theatre Royal, and currently Wellington Town Hall's strengthening and base isolation – that the Cathedral also requires.
The required skills of artisanship will be sourced locally as far as possible, and internationally where appropriate. "You could say we are rebuilding the skeleton from the inside. The walls, up to 1.2 metres thick, will be stripped from the inside and the existing rubble fill replaced with steel or reinforced concrete. It's going to be complex, and it is always harder to retro-fit – especially a Cathedral.
As much heritage as possible will be retained, including items like the recently recovered stained glass angel's head. He says the reinstatement will be a monumental structural repair of international significance. Likely the most complex Cathedral repair project globally, it will be worth the patience. The team is exploring ways of making the reinstatement accessible to the public using technology like CCTV as part of a temporary visitor experience centre.
"It takes a community to build – or in this case rebuild – a Cathedral and an independent trust has been established to fundraise and oversee the use of public funds," Paterson says. "A public campaign will be launched next year, but anyone is welcome to donate now online, by post, or in person."
The Dean of the Cathedral, the Very Reverend Lawrence Kimberley, is delighted that progress is being made. "It will be a joy to see the Cathedral on its way back to becoming a sacred and welcoming place for all," he says.
Visit www.reinstate.org.nz to donate and sign up to the e-newsletter.
---