Brilliant ballet bites
The Royal New Zealand Ballet is presenting its first-ever digital festival this May.
Twelve new works and fresh takes, all created especially for the camera, will be presented online for ballet lovers across the country and the world to enjoy.
The curated collection of 12 new dance films has been crafted by and for dancers of the Royal New Zealand Ballet in collaboration with artistic colleagues from the worlds of visual arts, music, and historic places. Audiences can purchase one of three collections, each around an hour in length, or the full suite, to stream at their leisure between 12 and 29 May.
RNZB Artistic Director Patricia Barker says, "The new RNZB Screen brand follows a two-year period in which our digital work has broken new ground in the arts in Aotearoa. While creating and converting work for the screen largely started as a response to the pandemic, it's become something we have found to be hugely successful and for us creatively, boundary-pushing. It's also a valuable tool for our RNZB Education team, with more than 30,000 school students engaging with our education activities online in the first four months of this year."
"We like to think of our online collections as the 'always on' part of our business, which sits happily alongside our on-stage work. So, even when we are not touring across the country, audiences can enjoy brilliant and beautiful ballet in their own time and stay connected with the RNZB."
Festival includes:
Shorts: Five short works by five choreographers from within the Company, including RNZB Choreographers in Residence Loughlan Prior and Shaun James Kelly. A tantalising cocktail menu of perfectly crafted miniature delights, with drama, humour, romance, and intrigue brought to life by the dancers you love, yet as you've never seen them before.
Quartet: Four ballets by four choreographers that the RNZB is proud to call family – loved live on stage but never seen onscreen. Re-created for the camera so you can see every step and every breath, with the strength and grace of the dancers sculpted by light and shade, music, silence, and space.
Kaleidoscope: Artistic Director Patricia Barker has brought together international works by Loughlan Prior, Andrea Schermoly, and Penny Saunders. All three choreographers revel in the possibilities of film as a medium for dance, playing with colour, perspective, animation, and light, and offering audiences fresh insights into their artistry and inspiration.
Tickets to Ballet Bites are on sale now at www.rnzb.org.nz. Prices range from $17 to purchase a single collection or $35 to enjoy all three.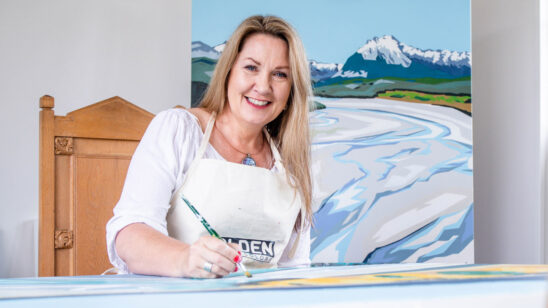 Previous Post