---
Lured by the historic enchantment of the SALT district, small businesses are returning – breathing community spirit back into a very unique part of town.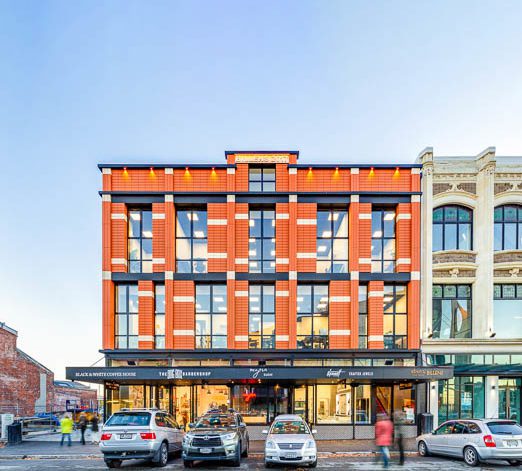 Above Your Space, at the heart of this redevelopment, has an evolving portfolio of boutique office spaces from 10-100sqm. "This was always known as the edgier part town – and it's now getting legs," Director Shaun Stockman says. "Rents are still lower here and the offerings are more interesting. You're right among the hip restaurants, bars and shops."
Shaun ensured Stockman Group's sympathetic rebuild of these historic spaces by investing in the highest standard design. "It's so we can still go 'wow' in 20 years' time." The backlit stencilled steel staircase and American 1930s chandeliers are such examples in the Billens building. He reminds us, as construction costs soar, these priceless city spaces are finite.
Currently, space is available at Bonnington, 225 High Street, with its original façade of grand arched windows. Common rooms are decked out with contemporary creature comforts, with a kitchen and boardroom on each level. Polished floors, high-stud ceilings, original artwork by Andrew Evans, designer lighting and the authentic rawness of concrete and steel create the vibe.
The redeveloped spaces of WL Brown and Duncans 135 also have limited space, and Ruby Black, with its gracious façade, is on track for February. Once a tenant of Above Your Space, there's flexibility of a seamless side move to new offices within the group. "Cantabrians may forget the city took 150 years to build – in comparison, it's shaping up quickly to be a very modern city."
Visit www.aboveyourspace.co.nz or phone Anna Morawiec on 022 059 7620.
---