---
It's the colour of a summer ocean and an expansive sky. The art world's love of this inky, energetic cobalt blue is well-documented. And they're not alone! Rich, deep and inviting, cobalt blue is the new power player of the homewares sphere. With its electric charge and ability to instantaneously uplift, the right hue of blue is as bold as it is beautiful.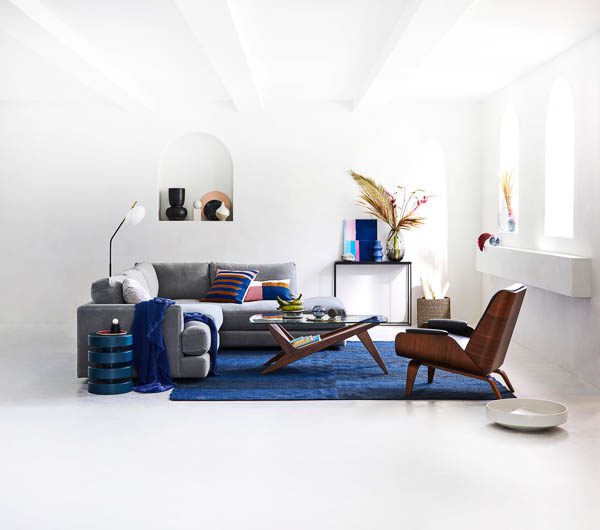 This colour is lighter than its more formal cousin navy, but has a deeper richness than cheery sky blue. Its name derives from cobalt salt mixing with aluminium oxide – creating a fathomless beauty. Its undertones can range from grey to purple.
Throughout history, dating back 3,000 years, it has been used for porcelain, tiles and glass – and was then devoured creatively by many an artist such as Monet, Renoir, Matisse and Van Gough. Ceramics and surroundings through to artworks and interior homewares have instant impact with cool, emotive cobalt blue. And it can look quite French.
The sultry shade is in love with velvet – from cushions to couches and with delicious deep buttoning. It can have a metallic quality, so shimmer with a metallic cobalt vase or bowl against a light-wood coffee table. Copper brings out cobalt's warmth. Gold elevates it to regal status.
The colour joins other moody dark hues in interiors this season, as primary colours are set aside for now. Even in lighting or kitchen splashbacks, this deep and decadent shade will lift a dull day. It is essentially a cool colour, but its brilliance creates warmth against a grey day.
It looks almost princely mixed with the new obsession – the shade of mustard. Mixed with terracotta, it emits the exotic of byzantine era and the bazaars of Eastern Mediterranean. Paired with green, it is nature in its finest combination. The rich colour is balanced and incredibly striking against the contrast of the palest dusky pink.
If you decide on a cobalt couch, light pastel cushions and throws will soften the depth. Whether it's a lightning bolt of this shade from a treasured collection, or painting the walls cobalt, to relaxing under a midnight sky, its jewel-like qualities are heavenly indulgence.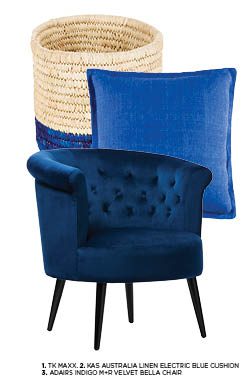 ---