---
Winter is knocking at the door, and there's nothing more we'd love than to retreat to the warmth of our caves and hibernate until the sun shines again – we can only dream! Winter is the perfect time to update our interiors so that when we do arrive home from that long, cold, dreary day, a serene and comfortable oasis awaits. We've put together our top tips for transforming your home in preparation for the cold months ahead.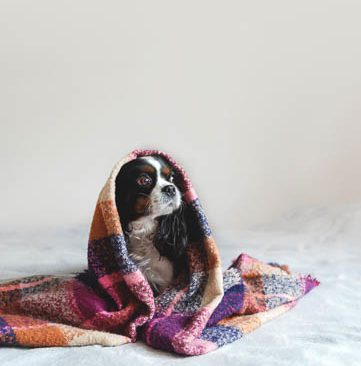 1. Toasty tones
Embrace those hot hues: we're talking dusky pink, amber orange, yellow-y gold and copper brown. Not only do these shades lend themselves to winter decorating better than cooler tones, they're all relatively easy to pair with the neutral, soft colours – creams, beiges, warm browns and greys – that you probably already have in your home. If you're feeling a serious change, consider repainting or re-wallpapering your walls in a warm, subdued colour. If you're not feeling that adventurous, adorning your walls with bright and colourful portraits or wall hangings is a quick fix that instantly adds an element of cosiness.
---
2. Brilliant boudoir
As the weather cools, your bed linens should change accordingly – as you swap out your light summer duvet in favour of a heavy duck-down inner, it's the perfect opportunity to give your boudoir décor a ruffle up. Winter's all about warmth, so investing in inviting, cosy fabrics like velvet, wool and cashmere are well worth their price tag. Have a go experimenting with new furniture – upholstered headboards make that big bedroom statement, as do hanging wicker chairs loaded with pillows and throws – your own cosy cocoon!
---
3. Flora fantasy
Not just restricted to the summer months, houseplants and indoor greenery can provide that much-needed burst of colour when it's damp and dull outside. Add a touch of greenery to your rooms to purify the air and emit that tropical jungle feeling – go for flora that doesn't require much light; dracaenas, philodendrons and money plants are just a few of many. For an aromatic atmosphere seek plants like jasmine, eucalyptus or lavender, otherwise a fresh fern or hanging pot plant might just be the antidote to the winter blues you're looking for.
---
4. Graceful glow
Dreary days and dark nights make winter the perfect time to create atmosphere with different kinds of lighting. Entertaining in the winter can be tricky business, particularly if you don't have a log burner, but you can't go wrong with the warm glow of a dozen candles, and dotting decorative lamps with warm yellow bulbs around your living space is a sure-fire way to accelerate the ambience. If you do have a fire, spice things up by decorating the area with cane baskets and a pair of circular ottomans.
---