---
It is a stellar representation from the art world's finest taking part in the Open Weekend and Art Show on November 7 and 8 at Windsor Gallery, 386 St Asaph Street.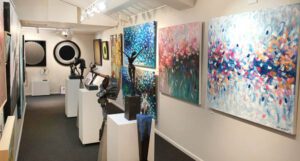 With over 130 pieces in the show and over 30 artists represented, from Aotearoa to Dubai, this promises to be one of the most exciting events for lovers of art.
Photographer Andris Apse; sculptors Anneke Bester and Matt Williams; and artists Joel Hart, Bruce Stilwell, Belinda Nadwie, David Woodings, Svetlana Orinko, Philip Beadle and Ivan Button (paying homage to Jackson Pollack), gives an indication of the high calibre of artists being showcased.
Whatever your taste – urban or abstract, photographic or sculptural – this art show speaks to all ages and all periods of life.
For those captivated by an exhibit, be assured every artwork is for sale.
Open 10am to 4pm, Saturday and Sunday November 7 and 8. See online and Facebook below, or
@windsorgallerynz on Instagram.
---