---
I feel like all too often we think of apples merely as the base of a dessert, to which we add berries or other more vibrant fruits. Here I wanted to celebrate the humble apple in all its glory, adding only a little lemon and thyme to accentuate, not cover-up, the beautiful natural sweet and sour flavour of in-season apples.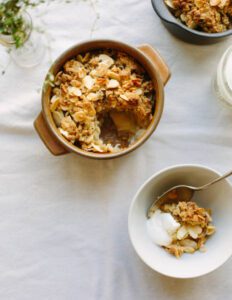 For a dairy-free or vegan version, use 60ml (1/4 cup) solid virgin coconut oil, plus a pinch of fine sea salt in place of the butter. The results are not quite the same, but still yum.
Any leftovers are lovely eaten cold with yoghurt for breakfast, or warmed through if you have the time and/or can be bothered!
If like me, you like to plan ahead to make life easier, double up the crumble recipe and freeze half in a zip-lock bag for later use.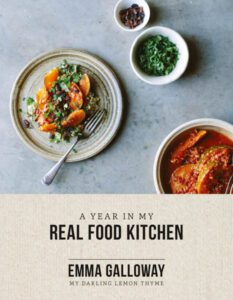 Serves 4-6
Ingredients
4 large granny smith apples, peeled, cored and sliced
4 large pink lady apples, peeled, cored and sliced
The finely grated zest of one lemon
85g (2/3 cup) sliced almonds
70g (1/2 cup) fine brown rice flour
55g (1/2 cup) ground almonds
70g cold butter, chopped into small pieces
50g (1/4 cup) muscovado or unrefined raw sugar
3 teaspoons finely chopped thyme
Method
Preheat oven to 180C (350F). Place sliced apples and lemon zest in a saucepan, add a little splash of water, cover with a lid and bring to the boil over high heat. Reduce to a simmer and cook for 8 to 10 minutes, stirring occasionally until apple is tender. Transfer to a two-litre ovenproof dish (or four to six smaller ones if you'd like to make individual crumbles).
Place sliced almonds in a dry frying pan over medium-high heat and cook 3 to 4 minutes, stirring often until lightly toasted. Remove from the heat and set aside. Put rice flour, ground almonds and butter in a bowl. Use your hands to rub in the butter until it resembles coarse breadcrumbs (it will feel a little more moist than regular crumble at this stage). Stir in sugar, toasted almonds and thyme. Scatter some crumble mixture over the apples, then squeeze the rest of the crumble together with your hands to form large clumps before gently scattering on top.
Bake for 40 to 45 minutes for one large dish, or 30 to 35 minutes for smaller ones, until the top is golden brown and the filling bubbling up and over the crumble in places. Serve warm with vanilla ice cream, vanilla custard or plain yoghurt.
---