---
Lou Heller wanted to be an architect, became a florist and is now styling women! But it's this creative trifecta which makes her so exceptional at what she does.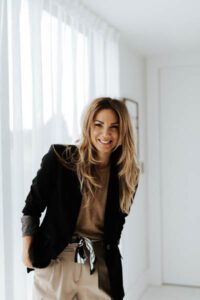 What are some of your key philosophies when it comes to styling women?

I have always stood by working with my clients to bring out the best in them.
Each and every single one has their own thumbprint, style, aesthetic, and sometimes this can get lost over time.
We lose the inhibition of a child to play in our wardrobes like we did as young kids, so I love to be able to give them the 'permission to give themselves permission to do so'.
For years we have been fed style rules around fitting into four different shapes, or a colour palette that we must adhere to. Yes, I feel there are some elements we can choose to take on board, but these can be limiting and, to a degree, inhibit our freedom to explore our style.
So I don't use the strict rules of adhering to colour palettes and body shape rules.
We all have that deep knowing of what is the best for us within, so I work by guiding my clients to allow them to work this out however, I still use the principles of line, proportion and colour, within reason. I love sharing tips and tricks with my Instagram followers.
---
What are some of your hottest tips for looking – and therefore feeling – fab?
First and foremost, learn to love your best bits and trust your gut.
When you do this, it allows you to have less inhibition to know what you love and what you feel great in, regardless of it being a style, trend or influenced by what others might think.
Don't pigeon hole yourself and your style; embrace your evolution.
Experiment, play in your wardrobe and spend time falling in love with your wardrobe. Learn your silhouette, trust your silhouette, love your silhouette.
If you're having a crap day and can't find something to wear, take a deep breath and choose to look at your wardrobe with new eyes.
And if you're still feeling bad… embrace it. We aren't built to have perfect days every day.
And if all else fails, put on a bright red lip and get on with it! Or, as I say, "emulate to stimulate" by emulating the outfit of someone you admire, using something you may have in your own wardrobe.
---
What are some of the key trends we can expect to see coming through this year?

For me, the trend element of fashion will never fade and it's a never ending evolution of new, old and repeat what has been before, but modernised to fit within life and style.
Being a florist in my past and always wanting to be an architect in my youth, I have discovered that all three (alongside other creative elements) tend to go hand in hand with trends and colours.
I love being able to feel what trends are going to be big and have always predicted style ahead of my time.
Call it intuition, or call it whatever you like, I generally get the feels for what I see being big by spotting something ahead of its time.
I feel lockdown made us shift very quickly and adapt.
Through this time we embraced the casual comfort, so I don't see this leaving anytime soon, but I do feel styles will re-navigate and almost take on a dressy element of that.
I for one went the opposite way and wore all my dresses and makeup as I felt this helped elevate me with fronting up to my Zoom clients around New Zealand.
I see lots of pastels, but also going off that whole strong feminine vibe of playful floral prints, but done with structure to offset the look. We also have lots of taupes, creams and ecru coming through, worn monochromatic and with structured shoulders to give the muted colour structure and touch of androgyny.
I feel green is going to have a wonderful entrance and it comes in shades of forest, mint and other tones that will pair nicely with multiple colour ways that already exist in our wardrobe.
It's such a privilege to do what I do and I know my clients will only reach out when the time is right.
A total wardrobe revamp is a cathartic time and something I feel we all deserve to have done at times in our lives.
We become stagnant and forget how to evolve by listening to what we love. I always say our clothes are just an extension of how we "feel" and if we wake up not feeling great, we will choose comfort over putting something on that will help transform this.
I have had multiple amazing clients who felt they had nothing, but then learnt new ways to use their existing options.
This can be freeing and also cost saving, as it will prevent them shopping for the wrong pieces going forward.
Another part of it is seeing and feeling what a difference before and after makes to them. That's what it's about for me.
---