---
With humble beginnings in Dave Gaughan's home garage 10 years ago, Eagle Brewing grew organically, producing and supplying a unique range of craft beers to cafés, bars and restaurants across the country.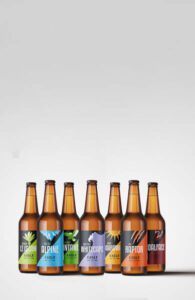 The brewery soon outgrew its premises, so Dave and his partner Marilyn took the opportunity to fulfil a lifelong dream of opening a brewpub.
The business has a strong environmental conscience and uses only the freshest, locally sourced ingredients and free-range meat to create every dish. From manuka smoked salmon to gourmet burgers, the extensive menu caters to all tastes and dietary requirements – including plenty of plant-based and gluten-free options.
New craft beer varieties have been introduced, alongside the range of refreshed favourites, including Whitecaps Hazy Pale, with big, complex aromas of citrus, tropical fruit, coconut milk, apricot and peaches, with hints of melon and fresh pear; the Raptor APA, a fruity, resinous, hoppy APA that packs a punch; Untamed Pilsner, a refreshing nutty pilsner; Alpine Pale Ale, with tropical fruit flavours, with a grapefruit pith bitterness hit and slight intrusion of caramel sweetness; EZ Island, a low alcohol mid-strength pilsner; Boardwalk Lager, a refreshing lager with a touch of fruity hoppiness; and Coalface Stout, a fruity, dark, earth-shattering dark beer.
Eagle Brewing NZ, 184 Williams Street. Phone 03 341 6849 and visit the website for more information or to shop online.
---