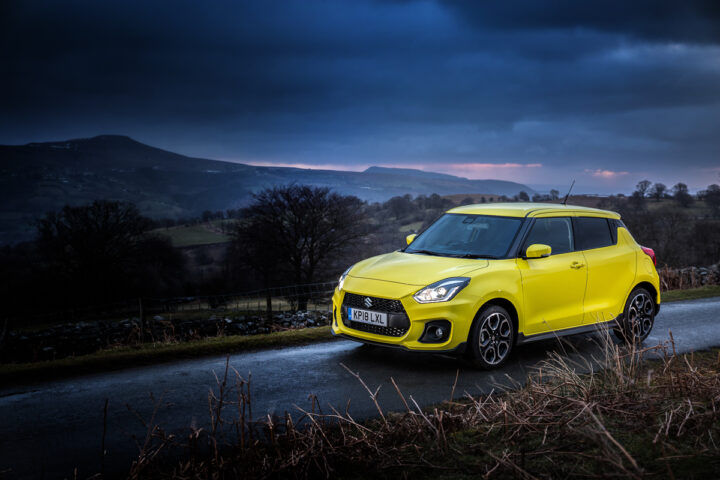 A Hot Match: Suzuki Swift
---
Every time Suzuki announces a new Swift, people notice. But when Suzuki raises the curtain on a new Swift Sport, many sit up like meerkats keeping watch. There is a good reason for this kind of reaction, the Swift Sport is, and always has been, a cracker of a hot hatch. Now into it's third generation, it's time to give Suzuki's newest pocket rocket a good going over.
For 2018, the Swift Sport has been on a diet with the new model weighing in at 970kg; 90kg lighter than before. The Sport also sits on lower springs and the 17inch sports alloys and new honeycomb grille are nice touches. Rear door handles are now hidden in line with the windows and the Sport still retains its lovely rear diffuser and twin exhausts.
Under the bonnet, the Swift Sport leaves behind its naturally aspirated roots in favour of turbo power. The Boosterjet 1.4-litre four-cylinder engine, despite having a name like a toddler's car seat, is a real peach. Power and torque have also gone up to 103kW and 230Nm respectively, while returning 6.1L/100km.
Inside, the semi-bucket seats feel and look the business while still managing to house your rear in relative comfort. You sit relatively high but despite this there is still sufficient headroom. All interior features feel slightly angled toward the driver too which is a nice touch.
Moving off and you realise that extra torque thanks to the turbo was long needed. At speed I found myself short shifting below 4,000rpm most of the time. A stark contrast from the previous 1.6-litre N/A model, which left you ringing its neck right to the redline in order for you to make serious progress. Plus, heel and toe shifting via the short throw six speed box is great fun.
The term go-kart was invented for a car like the Swift Sport. With acceleration likened to a jack russell pulling at the lead, well weighted direct steering, and the ability to corner almost flat thanks to its lowered stance and Suzuki's new HEARTECT chassis, you have the confidence to push hard and know it won't bite back. Rides much better too.
At $28,500, 2018 Swift Sport ticks so many boxes, more so than any of its predecessors. By making the new car easier to live daily without sacrificing the fun, Suzuki has churned out yet another epic little all-rounder. In terms of bang for your buck, they seldom come better than this.
---
---