---
Less than half an hour drive away from Christchurch is the lovely river town of Kaiapoi. The location has a real water theme around its most popular activities. We look at all of the reasons you should check out this little town that's only a hop, skip, and a jump away.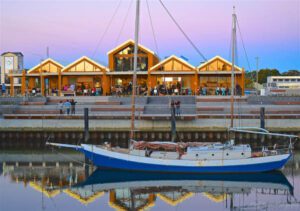 I'M LIKE A BIRD: If you're a thrill seeker that prefers to be strapped into a seat instead of by your feet; Alpine Jet Thrills is the perfect activity for you. Soar down the Waimakariri River with a smile and the wind on your face.
DIVE ON IN: The Kaiapoi Aquatic Centre is open year-round, making it a great family friendly activity. The learners' pool even features a waterfall into the toddlers' pool.
PERCH UP: At Port & Eagle Brewpub you can enjoy great food, brews and company on the banks of the Kaiapoi River. The variety in the drinks list, not to mention their own Eagle Brewery tap beers, are reason enough to check this place out.
ART ON THE QUAY: Kaiapoi's premium artspace showcases a new exhibition every six weeks from mostly local Waimakariri artists. So, if you're into art, photography, ceramics, photography or anything in between; then this ever changing art space is for you.
---