---
When the client engaged 360 Architecture 
to build a house on their site on the lower Cashmere slopes, they bought with them a number of interesting challenges.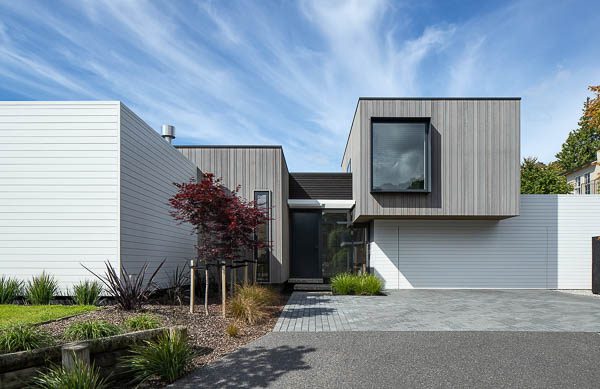 The size of the site was quite restricted, the soil was very unstable and in poor condition, and the height to which the house could be built was restricted so as to not block any neighbouring views. The build also needed to be completed within a fixed budget, so there was no margin for error.
Undaunted by the challenge, Rob Bosma and his team responded to the brief using a composition of simple, uncluttered block forms, interlinked and cut open to expose the interior spaces to the adjacent reserve and views beyond. The main living area and master bedroom with ensuite are elevated above a sunken garage. The house is dressed in high quality cedar cladding, a versatile material which has a natural warmth and richness of colour helping to integrate the building into its natural surroundings.
During the building and design process, optimising conditions for the best natural ventilation and comfort conditions were always kept in mind. This meant designing the build to optimise orientation towards the sun whilst ensuring there is adequate shading for the hottest summer months, and paying careful attention to the positioning of glazed surfaces.
Generous openings were provided to exhaust summer heat rather than relying on mechanical cooling. Therefore, the house remains comfortable in all seasons with heating only required on sunless winter days. The 360 Architecture team has managed to create something truly unique, aesthetically beautiful and in harmony with its surroundings. For the proud new owners of Broad Oaks, all the boxes have been ticked and their new home is truly a joy to live in.
PROJECT PARTNERS
Simon Devitt
International Photographer of Architecture
Phone 021 680 959
www.simondevitt.com
---