---
David Seymour got "hooked on the idea of pursuing political power in order to not use it".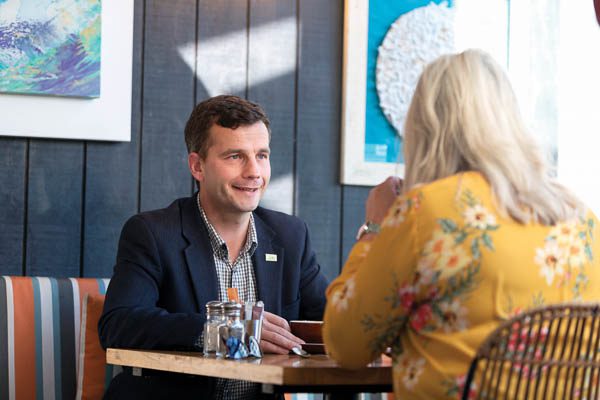 "Though it's harder to campaign that way because you're not making rules to stop people doing something you don't like," he laughs. "But I was interested in the idea that counterintuitively, countries that have less 'Government' and more personal freedom offer people better lives. A freer society promises we can live longer, happier, more prosperous lives. I got hooked on that idea at uni and never looked back."
Seymour graduated from the University of Auckland with a Bachelor of Engineering (Electrical & Electronic) and a Bachelor of Arts (Philosophy) and it was during his tenure here that he first dipped his toes in the political pool. He became a leader of ACT on Campus, the independent youth wing of the right wing classical liberal ACT Party. It was in 2005 that he first stood for the party in Mt Albert against then Prime Minister Helen Clark and he has headed it since 2014.
At its political heart, ACT's policies are focused around individual freedom and personal responsibility – including the right to freedom of speech, which has copped him criticism over the Israel Folau situation. But Seymour walks the talk himself, getting candid about his own opinions on the public stage, in a time of sound bites and PR companies. So why is that level of transparency so important to him? "I still have the version of democracy in my mind you learn at school, where politicians put forward problems and solutions, and voters choose what they like best."
And, while he concedes that's not necessarily the best electoral strategy – after all, it's polarising to lay one's opinions on the table – steadfast he remains. "I still have the view that a politician's job is to put forward solutions for a better tomorrow and that's why wrote the book," he says, referencing Own Your Future: A Liberal Vision for New Zealand in 2017, which outlines ACT's solutions to a number of pressing social issues.
Catching up with Editor Melinda Collins ahead of his 'beer, banter and politics' speaking engagement on 29 July at The Carlton, he talks passionately about what he loves about his role. "We get to actually give people opportunities they wouldn't have had under current policies," Seymour explains, describing charter schools as the best example of that.
Legalised after the 2011 general election before being abolished by Labour in 2017, charter schools were government-funded but subject to fewer rules and regulations. They set their own curriculum, qualifications, teacher pay rates, school-hours and school terms.
"We took a system where the Ministry of Education controls the type of education people get and said, actually a lot of communities out there have huge insights into our kids and it had huge success. A lot of kids who were not attending school were suddenly engaged. We did that, not by controlling anybody, but by taking power and giving back to the communities."
It was this relaxing of regulations in Christchurch's post-quake construction sector that "largely resolved" the issues in the housing market, he says, with the housing market one of the three critical focus points he believes need addressing in New Zealand.
"There's no shortage of housing, there's a shortage of land the Government will let you build on," he says. "The Government is focused on home building, but there's no point if you haven't solved the land shortage." The second of these focus points is education. "We have terrible underachievement; students who aren't being equipped and until we get those kids engaged, the whole country has a huge problem that will be with us for generations. "Charter schools showed how we can empower communities to solve the problems with kids."
The final piece of the puzzle, he says, is productivity. "People complain that we can't afford drugs for cancer, for instance. We are going to keep having problems like that if we don't fix productivity. We won't have a saving and investing culture, we will fall behind the world in terms of wealth and we're not being the first world country we can be."
He's likely the first politician in the world to twerk on television, so an interview with David Seymour can't possibly go by without some Dancing with the Stars questions. In 2018, Seymour made it all the way to the semi-final of the competition, finishing fifth overall and the experience was, in his words, "fantastic" – though he suspects with the level of talent this season he wouldn't have lasted quite as long. "Everyone, no matter what their job is, should take the opportunity to try something different," he says.
That opportunity enabled him to raise $70,000 for Kidsline, a charity he's been involved in since he was a teenager. "Lots of kids are anxious; Kidsline is somewhere they can call for comfort and guidance." He recently hit the dance floor again with former dance partner Amelia McGregor and her latest dance partner, William Waiirua, for a Great Gatsby-themed quickstep, scoring the trio a near perfect score of 29! Was it easier this time around? "It was definitely easier this year," he says. "My main job was to stay out of their way and I succeeded in doing that!"
So what's next on the cards for this fleet-footed party leader? "Well, we need to see ACT grow," he explains. "We need to see more people like me putting ideas out there for a better tomorrow. More freedom for individuals can make a real contribution to making New Zealand the great country it should be."
---
---