---
A Postmodern Jukebox (PMJ) show is a toe-tapping banquet for the senses and it's returning to a venue that befits the sumptuous performance.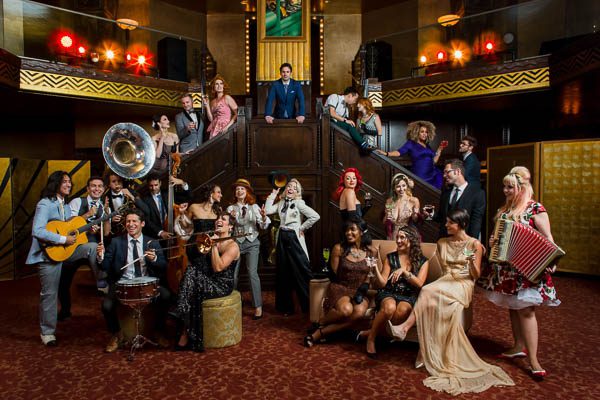 The timely Welcome to the Twenties 2.0 tour will touch down at Christchurch's Isaac Theatre Royal on Saturday 19 October.
Scott Bradlee, founder of the Postmodern Jukebox legacy, has crafted a worldwide phenomenon with modern songs transformed into the style of classic genres, such as the razzamatazz of the roaring '20s. "And here we are, entering the '20s again," says singer Aubrey Logan.
Aubrey is one of the favourites in the revolving cast of dozens, featured in this spring's Antipodean tour. It's her first visit to New Zealand, but the fifth time for PMJ, "and I just can't wait," she says. The unique band has reached 3.5 million YouTube subscribers – Bad Blood and Benny and Jetts being among Aubrey's claim to fame.
As well as a mellifluous voice and spine-tingling four-octave range, she plays a mean trombone. It's not important to be impressive, she says. "I just want to inspire and move people and connect emotionally; that's what counts."
After being away from PMJ for two years, rocking it in jeans and leather jackets on her own solo album tours, Aubrey says, "I get to dress up!"
"PMJ really encourages us to go all out – sequins, costume changes and colour co-ordinating trios. I'm ready to wear some fancy dresses again and go back to the glam!"
Her voice is a genetic blessing, but Audrey says she still has to work at it. A natural at acting, she grew up in musical theatre. "I'm thankful of some of the boredom of being an only child. Being alone in my room with the door shut gave me the opportunity to practice and experiment with my voice, make weird sounds, listen to my parents' CDs and try to emulate everyone I could."
The Seattle-born, L.A-based 31-year-old has a phenomenal knack for scat singing – that funky, nonsensical jazz improv. She doesn't deny it; she says they travel a lot, so performing and talking with fans can be hard on your voice and body.
"I say to the band after the shows, 'guys, I can either have bad sleep or alcohol – pick one!'" she laughs. "I don't have balance; I have an extreme life – so it's all about prioritising."
She has huge gratitude to Scott Bradlee for her success. PMJ is family to Aubrey. "We all have our own projects, but we have that bond to be able to lean on each other. "I'm always inspired by my peers' talents. Each one of them, on every tour, has a superpower – there is no one that sounds like anyone else.
"Ariana Savalus is my best friend, even though we've nothing in common. I learn from her and she's so freakin' funny. And Casey Abrams is a free spirit. I'm an organised-to-a-fault Type A, but he's taught me to enjoy music and my life."
Audrey loves to connect, meet and be with the audience – the only reason for performing live, she points out. "I'm really looking forward to being back on the stage, as there's nothing like a PMJ audience – they dress up like us, and even better!"
---