---
Gastronomically speaking, it can be a confusing time of year. Longer days and slightly balmier temperatures tell us salad season is near. But the fact we still need our jumpers and coats leaves us equally in want of warming comfort foods. Enter the warm salad: A happy medium between crisp freshness and hearty wholesomeness.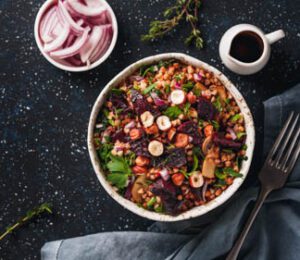 Warm salads help administer your 5+ a day, with that comforting temperature we can't help but crave in cooler times. Here's some ideas for creating your own colourful, all-season salads.
LAMB AND ROAST VEGETABLES: Healthy and hearty is covered with a Greek-inspired blend of pan-fried lamb and oven roasted pumpkin, onion, and beetroot, all seasoned with cumin, chilli, and cinnamon. Add crumbed cauliflower (pan cooked for a quick 5 minutes) and pistachio, walnuts, linseed, mint leaves, and a tangy tahini dressing.
---
ROAST PUMPKIN AND PEPITA: Reduce your food waste by roasting pumpkin seed pods alongside the flesh from the same vegetable. Wash and pat the seeds dry, and roast for about half the time as you do the flesh. Drizzle the finished results with honey, apple cider vinegar and top with labneh or feta, and refreshing mint.
---
BUCKWHEAT AND BEETROOT: This salad (pictured) is an easy combo of roast beetroot, sautéed mushrooms, and onion, all mixed with cooked buckwheat and topped with fresh herbs and roughly chopped, lightly toasted hazelnuts. Sprinkle with feta, or add some fried haloumi, and finish with a chef's kiss.
---