---
Oversized, floaty and fabulous, this fashion statement for autumn has exaggerated its proportions to both capture attention and keep everyone comfy as the leaves fall and temperatures drop.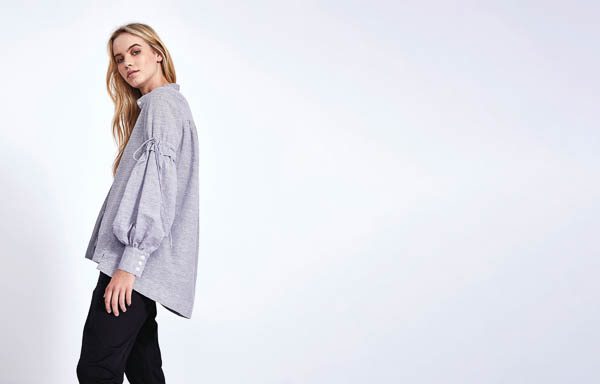 ---
SUPERPOWERED SLEEVES

Cinderella is donning the pronounced but pretty puff sleeve to show she means business – this time in sexy fabrics from completely sheer and shimmery through to coloured leather.
For long sleeves, it is time for them to balloon, like with the Felix Shirt by Morrison, pictured.
Balance out this festoon of fabric with a micro skirt or slinky pants.
---
PAPER BAG PANTS

More flattering than the eco-friendly title suggests, these baggy-waisted trousers, stylishly cinched at the waist with a ropey or wide belt, are the sassiest autumn trend.
Pair with a casual crop top, or dress up with a puffed sleeved blouse or smart shirt. Mostly high-waisted, and either cropped or turned up at the ankles, they make generous-fitting comfort look effortlessly feminine.
---
HANDBAGS WITH MORE

No need to juggle a multitude of shopping bags; swing an oversized tote instead. Big and very big bags are still here – very practical for those of us that are always on the fly.
Invest, and choose a colour and fabric to look great with an outfit, as this is the boldest of accessories.
---
COATS OF VOLUME
Oversize the timeless, chic trench or the puffy, padded parka.
The four-seasons-in-one-day dilemma is solved. Forget oodles of layering – it'll feel like snuggling into a blanket when the weather turns nippy, after a sun-kissed autumn day in a sleeveless top.
---