---
This new dessert dynasty on New Regent Street stands by an important motto: "Go ahead, treat yourself". And the Waffle Haus is quickly building a reputation for delivering on that brief, with a mouth-watering menu of waffles, gourmet shakes, ice creams, coffee and tea.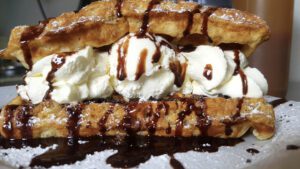 One of the newest additions to the ever popular, colour-happy street, the Waffle Haus owner Jamie Stewart says the store brings even more flavour to the "coolest street in New Zealand."
"Our service philosophy is to make people happy and give them a great experience in our store," he says.
"We always love the reactions of often wide eyes and gasps when we serve the waffles to them."
As well as excellent hospitality, the increasing popularity is likely down to the lip-smacking food and beverage offerings (including 30 gourmet shake flavours) – and a loyalty card which promises your sixth waffle for free.
Try the Death by Chocolate, waffles with Whittaker's chocolate pods, chocolate sauce and chocolate flakes. Or, the Berrylicious, which features strawberries, raspberries, blackberries and berry sauce.
Even better yet, embrace your inner Augustus Gloop and treat yourself to the all you can eat waffles and coffee. But be prepared for some gluttonous competition: The record currently stands at 13 waffles.
With seating for up to 40, upstairs or outside, the Waffle Haus can be a tasty destination of choice whatever the weather and time of day. Open from 9am daily.
---