---
A century-old Lyttelton fishing boat is the centre-piece bar for a pizza joint that's authentic to the core. Arbour Woodfired Pizza and Bar is rustic simplicity and intense perfection in the same bite.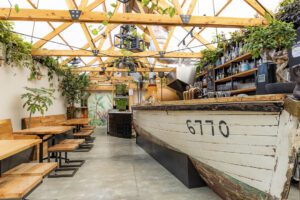 Megan Hancox-Hammer and arbourist husband, Ra, dreamed of woodfired pizza set amongst native timbers, using local produce in Italian-esque tradition.
It's now a community hangout with a menu conjured by two seasoned pizza maestros, who are given free reign.
Originally a pop-up pizza truck, it now permanently fills a gap in Lyttelton. Megan and Ra's brother Mario run the business under its transparent roof, with indoor plants, a picturesque courtyard, and timber fit-out by Troy of Aridium Design. Since December's opening, diners from both sides of the tunnel have experienced pizza as they've unlikely tasted before.
The New-Zealand-made wood-fired oven is fired by logs from Ra's arborist business, The Tree People.
Sustainability is imperative, and the business even recycles used oil for Ra's chainsaws.
As a lockdown project, he began raising pigs for the tasty pancetta, and curing their own meat.
Megan eats plant based and shares her passion delectably in the menu choices.
Supporting locals from farmers market produce to wines from across the harbour, many surprising stories lie behind the details, from a family who keep enhancing their epicurean adventure.
---