---
Late summer is the perfect time to whip out all the refreshing cocktail concoctions many mastered during the infamous lockdown. Whether you need a refresher or additional recipes to add to your repertoire, Metropol has collated cocktails of choice so you can sip away the last of the long, warm summer days.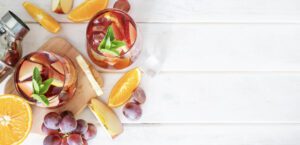 PIMM'S CUP
The Mix's recipe for this classic is quick, easy and serves 10 people – awesome for those barbeques and catchups. It only requires 500ml of Pimm's, 1L of both lemonade and ginger ale, fresh cucumber, mint and seasonal fruit. There's no real art to putting this together, as you simply do just that… put it all together. Serve in a glass bowl or dispenser for added pizzaz.
LEMON AND ORANGE SANGRIA
Nadia Lim comes to the rescue (again) with a delectable recipe for traditional sangria. It calls for one bottle of Spanish red wine; 400 to 500ml of dry lemonade; 1½ cups of orange juice; 1/2 lemon, juiced; one orange and lemon both sliced; and lots of ice cubes. Lim suggests letting the mixture sit in the fridge so the flavours can meld together, before adding the ice.
THE BEACHY KEEN
Liquor King tingle our tastebuds with this fruity mix with a kick. You will just need 30ml of vodka, 15ml passionfruit syrup, ½ cup canned peaches, 20ml lemon juice, 30ml orange juice, ice and fresh mint. Throw all of your ingredients into a blender and hit go. Garnish with mint, enjoy your cocktail for one… and maybe four or five more after that.
---