---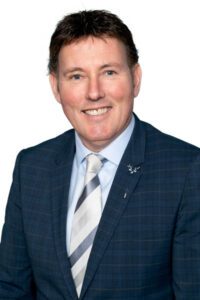 While I enjoyed the break over the lockdown period, I have to admit, it was great getting back into the real-life working routine again. Like many, I grew tired of the Zoom this and Skype that. I went back to work the moment the restrictions allowed me to do so and over the last six weeks I visited many of the city businesses to gauge the city's financial temperature.
There seems to be a warm glow coming from many businesses and I think this is, in part, our people yearning for a real life experience rather than the overused virtual experience.
However, we are now in the midst of our winter and generally people go into hibernation the moment that cold snap bites in. At some point over the last 30 years many of us have forgotten how to put a coat on; we go from air-conditioned homes, to air-conditioned cars, to air-conditioned work places. But we need you to find that coat and continue supporting your local businesses over the next couple of months to keep that warm glow momentum going.
It is looking likely that Australian bubble will not happen this year. However, I am grateful we have wonderful local neighbours; the Greater Canterbury region, Southland, Otago, Marlborough and the West Coast.
'Supporting your local' is one of the elements to our economy's recovery and I know your local business would love to see you in person, because nothing beats the real thing.
---