---
Since the opening of the re-built Isaac Theatre Royal, Showbiz Christchurch has exceeded all expectations with a feast of world-class musical theatre. From The Phantom of the Opera in April 2015 to the most recent Miss Saigon, more than 167,000 patrons have experienced the best of Broadway here in Christchurch.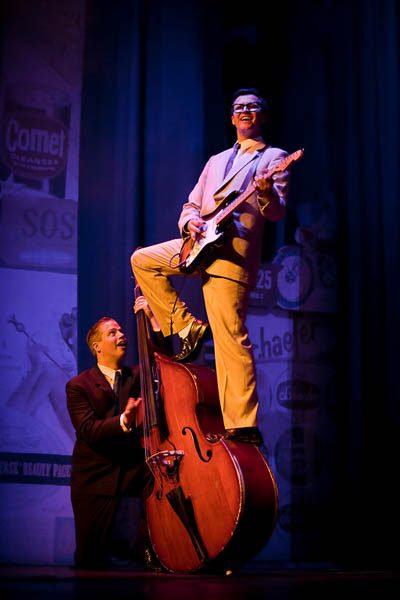 Now 2020 promises a fabulous continuation of the musical journey with three new productions: My Fair Lady, Chess in Concert, and Buddy, The Buddy Holly Story.
My Fair Lady tells the story of Cockney flower-seller Eliza Doolittle and pompous linguistics professor Henry Higgins who wagers he can transform the girl from the Eastend gutters into a genteel Edwardian society lady.
Songs such as Wouldn't it Be Loverly?, The Rain in Spain, On the Street Where You Live, I Could Have Danced All Night, and Get Me to the Church on Time capture the clash of class, cultures and minds in this charming musical.
When My Fair Lady was first performed in Christchurch in 1962, it set the Theatre Royal record, with a total of 200,000 patrons attending 171 performances!
Showbiz Christchurch brings this stunning new production of My Fair Lady to the Isaac Theatre Royal from 3 April 2020.
The weekend season of Chess in Concert from 19-21 June 2020 features a large onstage chorus and orchestra, with sensational soloists performing international hit singles such as I Know Him So Well, One Night in Bangkok, and the epic ballad Anthem. Set during the Cold War, an American and a Russian chess master become political pawns of their governments as they battle for the world chess title and a woman's attention.
Buddy – The Buddy Holly Story opens in September 2020 at the Isaac Theatre Royal. Set during the 1950s when Buddy was the world's top recording artist, this rock n roll musical features his greatest hits, including Peggy Sue, That'll Be the Day, Oh Boy, Rave On and Raining in my Heart, and will have audiences on their feet and grooving in the aisles.
Season earlybird discounts on sale from Monday 25 November. For tickets, visit www.ticketek.co.nz/showbiz. Freephone 0800 842 538 or 03 260 5260 Ticketek Box Office at Isaac Theatre Royal, 145 Gloucester Street. Open Monday to Friday, 10am-5pm.
---