---
Fruity forms of orange fuelled our fashion sense in spring. Citrus shades are still sizzling on summer's shelves and now they're set to warm up autumn wardrobes.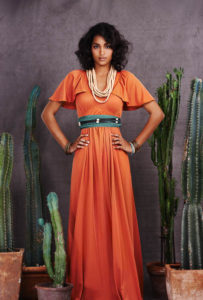 Eastern cultures have always revered this hot spot on the colour wheel.
During Chinese New Year mandarins, tangerines, satsumas are symbols of abundance and fortune.
To wear the vibrant orange shade of tangerine brings happiness and enthusiasm – the mantra for 2020.
Tangerine is Fashion and Lifestyle Coach Angela Stone's favourite colour – and has been for a while.
"My wardrobe is full of it; skirts, tops, trousers, dresses. Colour adds vibration and it really makes me feel alive, as it's such a positive colour."
Tangerine hails from the orange palette, but it's a richer more saturated shade, just like the skin of its fruity namesake – injected with a juicy squeeze of scarlet.
Angela says it is a perfect colour to wear for those who would normally shy away from standing out in siren red. "It is kinder and softer than red – more subtle."
Tangerine will show off a golden tan and will also add warmth to those with a more porcelain complexion.
"It is a very flattering universal colour, as everyone suits it. It can be paired with almost any other shade, including other universal colours like forest green or cobalt blue. Blonde, brunettes and red heads – we all look great in it."
We don't have to retire an outfit once autumn hits.
Tangerine is a sumptuous pop of colour pared against more retiring shades of autumn – such as darker greens, chocolates and burgundies.
Tangerine evokes a dream escape to a tropical retreat, sipping tequila sunrises by the pool. Wear it every way – from psychedelic crop tops to maxi skirts and boots.
---