---
While aesthetic medicine has traditionally been seen as female focused, there continues to be a considerable shift towards the male market. Those in the industry describe it as the 'groom boom' and adopt terms such as 'brotox' when describing male anti-wrinkle injections. Face Value's Dr Phil Frost is seeing an increasing number of male clients seeking subtle and natural non-surgical cosmetic treatments that enhance the masculine aesthetic. No longer taboo, cosmetic procedures are seen as part of regular grooming and maintenance, and are just as acceptable as visiting a barber or hair salon.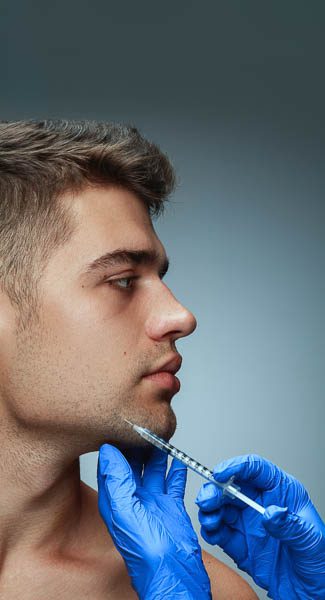 But Dr Frost stresses it is not a 'one size fits all' approach. "It's important to understand the difference in aesthetics between beautifying and glamorising a female face, and enhancing the attractiveness and masculinisation of the male. The male face requires different ratios and sharpening of angles, avoiding feminising and softening of features."
A strong and well-proportioned chin, jawline, brow and cheekbones are widely perceived to be attractive features of a male face, and dermal fillers are often the first line treatment to correct these areas. For example, if you have a 'weak' chin or undefined jawline, fillers are used to add volume or chin projection, creating a more chiselled, angular and stronger profile. So too are Belkyra® injections, targeting that unwanted fat under the chin and jowls which cannot be worked out at the gym. The results are long lasting and can give the jawline strength and definition.
Treatment with botulinum toxin remains the single most common cosmetic procedure sought by male clients to minimise frown, forehead and lines around the eyes, and again doses and placement should be tailored to suit the male face. And especially important for the Kiwi male, sun protection and tailored skincare is a must.
"Men are also taking better care of their skin," Dr Frost says. "Seeking professional-grade sun protection, and solutions for excess sweating, enlarged pores, wrinkles, brown spots, moles, and facial blood vessels."
For years, women have availed themselves of cosmetic treatments to look and feel their best. Men are now catching on – in a big way!
---