---
With brains, brawn and beauty by the bucketload, few would be better suited to a broadcasting career than Stacey Morrison.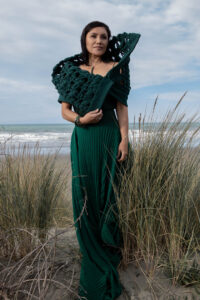 Then known by the surname Daniels after her father, prominent radio personality and now Councillor for Coastal Ward – James Daniels, Stacey was just 18 when she got her first gig – as a presenter on What Now?
"I love that people still remember me from What Now?," she laughs when I point out I have followed her career since then.
"It blows me away really, I was still a student at Aranui High School at the time! I still work with Whitebait Productions which makes What Now?"
She is today one of Christchurch's most beloved exports and her 25-year career has taken her around the country. She's now settled in Auckland with husband, another veteran of the Kiwi screen, presenter of current affairs programmes Te Karere and Marae – Scotty Morrison, and their three children – Hawaiki, Kurawaka and Maiana.
And while mum to those three children is undoubtedly her most important role, she has been lucky to be able to combine whānau life and work at times. "Making Whānau Living for five years, with all of my kids and husband Scotty involved, really was a joy and a highlight," Stacey says.
"The producer, Brad, and I came up with the idea for the show when he noticed how we live our lives and how it reflects many busy whānau, so I felt proud that it was a continuation of our lives and many of the cast and crew are still close friends of ours."
Scotty and Stacey are teaming up again professionally, with a new show National Treasures hitting the small screen soon.
"It's about keepsakes and personal treasures that people have at home, that unlock a story of a time in the last 100 years in New Zealand history," Stacey explains.
"I've done some filming already and some of the stories from Christchurch are deeply moving and inspirational."
Co-hosting The Hits Drive Show alongside Mike Puru and Anika Moa makes for a busy life, but Stacey ensures there is always quality whānau time.
"I loved the lockdown for that reason – everyone at home! The second lockdown in Auckland, that was a little more challenging," she laughs.
"We have set whānau time in lots of ways, whether it's family movie night – currently episodes of Cobra Kai, which is great for the other four who all do karate together – sit down mealtimes and board games and travelling or working together when we can, too."
Stacey and Scotty kept busy even through lockdown, co-creating a new all-ages activity book Māori Made Fun, featuring crosswords, word-finds, colouring, riddles and a bit of maths and science.
"This is Scotty's seventh book and the success (which even surprised us) of his Māori Made Easy series and our other co-written book, Māori At Home means we had the opportunity to look at a different approach, that we don't have many of on the market," she explains.
"We wanted to make something that people of all levels of understanding – from beginners to fluent speakers; something you can pick up and do for just five minutes, or an hour, but offering some fun and reo in your day."
One of the most special roles she has had over the years has been an unofficial advocate for te reo Māori revitalisation, after learning the reo as an adult.
"I had a very stumbling, long-winded path of learning te reo, over maybe 10 years," she laughs. "But once I really concentrated, it took a couple of years of exponential effort to be comfortable to say I'm a fluent speaker."
It's a subject she is passionate about. "At the time that I started learning te reo Māori, in the 1990s, it wasn't as widely supported, yet it felt important to me," she says.
"Te reo Māori can unlock knowledge about where we live, what the history of that place is, express our feelings such as aroha (compassion, as well as love), connect us all and express our unique identity."
So what would she say to someone who was interested in learning but is perhaps shy, embarrassed, or self-conscious?
"That all of those feelings are valid and yet it's still worth pushing through, attempting and enjoying your reo learning journey. No one is judging you as harshly as you imagine, so try to stay out of the over-thinking zone of your brain, it will slow down the part of your brain, ears and heart that are trying to stay wide open!
"Kia kaha rā koe, keep going hard, you've got this!"
Clearly, it's a motto Stacey herself lives by.
---