---
Sometimes all it takes is perfect timing to bring your best achievement into the limelight.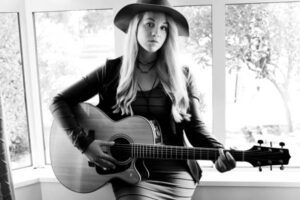 When she was 20, local Christchurch musician Steffany Beck won a grant with the foundation Rise NZ, to record her song I Have a Dream. Now at 30 she has just commercially released her favourite original to the world.
"The lyrics are about what the world would look and feel like if everyone accepted each other for who they are, allowing people to just follow and live their dreams," she says.
At the time, the inspiring indie pop-rock song was recorded professionally with a full band, released on the Rise website and showcased on the Erin Simpson Show, but that was the limits to the song's publicity.
"Only my friends and family really knew it existed back then – there was no opportunity for it to go anywhere," Steffany explains.
"However, a teenager did recognise me in the mall and said it completely inspired her. That really meant a lot; creating your community and connecting with them is what inspires me the most. It's who you do it for."
The song title was inspired by Martin Luther King's famous 1963 quote when he called to end racism in the United States.
It was watching videos of his speeches that the American-born songstress got inspiration to write and headline the song.
"Coincidentally this even has relevance with what's been going on recently," she says of the lyrics which she hopes will inspire others to be more accepting.
"Helping people is all I have ever wanted to do."
When it comes to inspiration, it was in fact her own song that inspired Steffany to write and record her EP Blue Eyed Girl last year.
"This February I realised this song (I Have a Dream) was actually the prologue to my EP – the reason. My gut instinct told me I had to now share it with the world."
When the original was released, Steffany was a budding artist but decided to learn the marketing side of things and be her own manager to get her music out there.
"That's what many musicians are doing now," she says. "There are so many platforms you can put your music on that weren't there 10 years ago."
Instead, Steffany arranged interviews on radio stations, TV segments, even for a music magazine in India! "The whole world is my platform," she says.
Over the last decade the songstress has been reinventing herself and counts being chosen for a song-writing workshop weekend with Kiwi icon Bic Runga as one of her professional highlights.
The brunette Stephanie from the original YouTube video of I Have a Dream has now become a more talented and very blonde, Steffany.
"I changed my name spelling as there were so many other Stephanie Becks. You need to be easy to find," she says.
Steffany's working week is busy as a full-time Health and Safety Manager at Contract Construction, a career she adores.
Lockdown gave her the chance to let herself relax a little and get the re-release of her original I Have a Dream organised.
"I really want to inspire people. Especially now with everything in crazy chaos, you still owe it to yourself to live your own dream."
Her original song is now up on Spotify, iTunes, apple music, Sound Cloud and Facebook and the latest video went live on YouTube on 15 July.
Song Spotify/ iTunes/ Apple Music
Music video
www.youtube.com/watch?v=Nq_x6Xi4buA
Social media
www.facebook.com/steffanybeckmusic/
---