---
I've partnered with the team at JAZZ Apples to create an incredibly simple oaty butterscotch and apple crumble.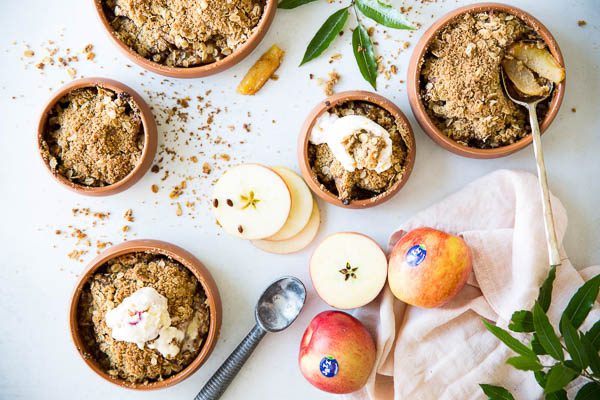 New season JAZZ Apples are grown in sun-drenched Nelson and Hawkes Bay orchards creating a tangy-sweet flavour that cuts through the caramel for a not-too-sweet (but rich) dessert. I've cheated and used store bought caramel but you could equally make your own using brown sugar and butter.
INGREDIENTS
Topping ingredients:
1⁄2 cup flour
1⁄4 cup brown sugar
Pinch of sea salt
1 tsp ground cinnamon
100g cold butter, cubed
1⁄2 cup rolled oats
Filling ingredients:
6 JAZZ Apples, peeled, cored and chopped
2⁄3 cup caramel (I used Highlander caramel)
Pinch of sea salt
30g butter, chopped
METHOD
1. Preheat the oven to 180°C.
---
2. For the topping, combine the flour, brown sugar, salt, and cinnamon in a bowl.
---
3. Add the butter cubes and rub into dry ingredients to resemble breadcrumbs.
---
4. Stir in the oats, then set aside in a fridge while you cut the apples.
---
5. Toss the chopped apples well with the caramel sauce and salt.
---
6. Split the mixture between 4-6 ramekins, top each with a knob of butter then sprinkle the oaty topping evenly all over each.
---
7. Bake for 40-50 minutes until the apples are bubbling and the crumble is golden brown.
---
8. Serve with lots of ice cream.
---