---
Using exquisite materials like Italian stone, marble and granite, talented craftsman Shane Boyd has become highly skilled at creating functional works of art for the home.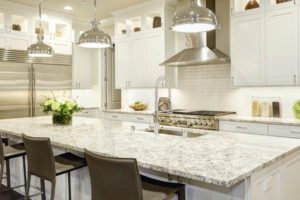 Specialising in benchtops, fireplaces, tables and feature pieces, Shane and his team of five staff are becoming known across the South Island for their stunning designs, quality finishes, and attention to detail.
While they're Canterbury-based, recently they have been in high demand with projects keeping them busy in Queenstown and Wanaka.
With more than 25 years' experience in the industry, Shane has spent time in Australia and the UK where he has worked as a head mason at Buckingham Palace and the homes of celebrities.
With all this experience and know-how, the best part is, if you chose to work with the company, you'll deal directly with Shane throughout the building and design process.
"Most of the work is handmade which results in a far better finish," he says. "We work with marble, granite and European stone; most of it comes from Italy."
For more information, visit info@shaneboydgranite.co.nz, phone 021 240 0124, or check out their Facebook page for up-to-date news and details.
---