---
Emphasising the 'fun' in fundraiser, Ronald McDonald House's Christchurch Supper Club annually celebrates Christchurch's finest dining destinations, with a kind-hearted, essential purpose underpinning each culinary experience: to accommodate and support families who must travel to Christchurch for their child's medical treatment.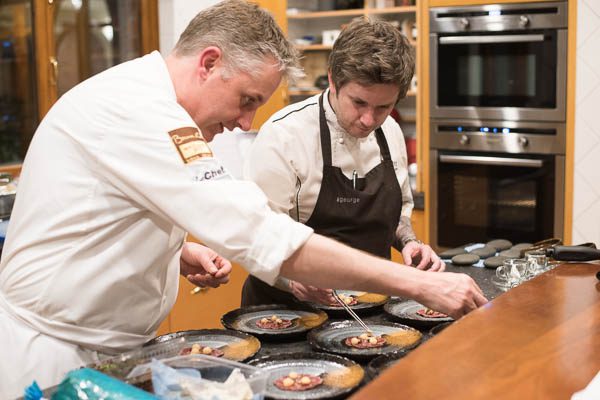 Dressed in their very best with champagne flutes in hand, guest after guest gathered at the Isaac Theatre Royal on 21 June for the charity's fundraising event of the year. Not knowing where they'd be dining, the guests awaited the famous mystery draw with anticipation. Which of the 34 unique destinations would be theirs for the evening? Welcome to the excitement of the Christchurch Supper Club!
After listening to Pat Connell share the story of his family's 229-night stay at Ronald McDonald House South Island, a live fundraising auction took place. A lucky team of eight from Smith Crane & Construction scored the sought-after auction prize of 'First Choice', which entitled them to pick any mystery dinner out of the 34 on offer – and their choice? Luxury accommodation venue The Britten Stables, which had been paired with award-winning Chef de Cuisine Ryan Henley of fine-dining seafood restaurant Pescatore at The George.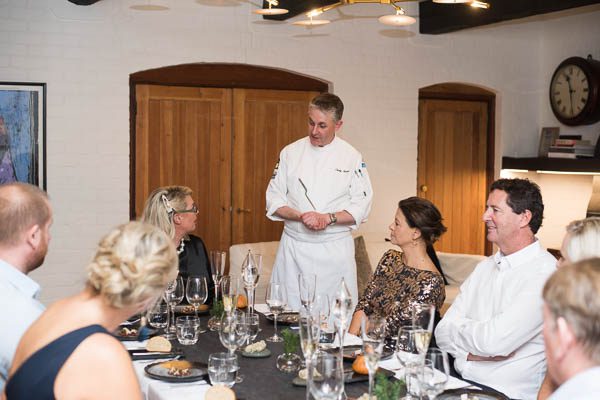 The Britten Stables' co-owner Isabelle Weston says she was "over the moon" to be approached by Ronald McDonald House to host a mystery dinner for the 2019 Christchurch Supper Club. "We are regularly approached by charities and love to support where we can… particularly charities that focus on children." She expressed she was proud that The Britten Stables was 'lucky enough' to be selected for the 'First Choice' auction prize and thinks the venue particularly appeals to people because of its rich and unique history.
Whisked away from the pre-dinner function in vintage cars, the eight guests arrived at the magnificent Britten Stables. After they were seated in the sumptuous sitting room, they were served an exclusive seven-dish degustation menu, in line with Pescatore's typical dining style. Renowned for pushing the culinary boundaries, the contemporary restaurant produces palate-pleasing plates of unparalleled originality and quality – and this evening was no different.
The gastronomic dinner began with the perfect marriage of Wild Venison Tataki and Deer Milk Crisp paired with Black Rice and Soy, followed by the fine flavours of Scampi Sandwich, Kina, Kawa Kawa and Cucumber. Next up was the strikingly sublime combination of Scallop, Nori, Broad Bean Miso and Chive, then an exquisite plate of Slow-Cooked Egg Yolk, Smoked Potato and Oyster.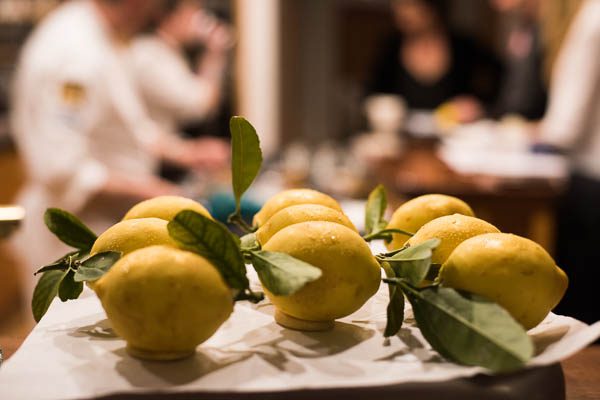 Guests marvelled in two more decadent dishes of the savoury variety – Salmon Consommé and Nasturtium, and Confit Groper, BBQ Red Cabbage, Fermented Squid, Clam Cream and Tarragon – before their taste buds were treated to the sweet sensation of Rhubarb Granita, Pistachio, Apple, Yogurt and Mint Lemon.
The 2019 edition of the Christchurch Supper Club proved to be truly unforgettable evening, garnering an outstanding sum of donations totalling more than $105,000. This heart-warming annual event gives dedicated restaurateurs and top chefs the chance to showcase their skills, promote their establishment and deliver delectable cuisine to the people of Christchurch, knowing their contribution helps to house and support over 1200 families annually.
---