Pear & chai loaf: Magnolia Kitchen

Ingredients
4 ripe pears
2 eggs
250g brown sugar
350g plain flour
2 tsp baking powder
150g butter
100g Chai syrup
100g milk
Toppings
2 Tbsp brown sugar
75ml maple syrup
Method
Preheat your oven to 170°C. Grease your loaf tin (standard size) with a little butter and line it with baking paper.
Peel one of the pears and chop it up into little 1cm pieces (this doesn't need to be exact—seriously, DO NOT measure the diced pear!). Peel the other three pears, leaving the top stalk on (this is for visual effect). Keeping the pears whole, cut out the furry bit on the bottom and use an apple corer to remove the core.
Make sure you are gentle when you do this, as you don't want to push up too far and remove the top of the pear where the stalk is. Just do enough to remove the core.
Now, beat the eggs and sugar in a mixer until thick and fluffy, then add the flour and baking powder to the mixer bowl and beat to combine. Place the butter, chai syrup and milk in a suitable bowl and heat in your microwave in 30 second bursts until the butter has just melted. Add half at a time to your mixer bowl, beating well after each addition, then add the diced pear and fold through the batter.
Pour a quarter of the batter into the bottom of your tin. Get the three prepped pears that now have no furry bits or innards (lucky them) and stand them up in a row down the centre of the tin, then pour the remaining batter around the pears. Sprinkle the batter with your 2 tablespoons of brown sugar. Put the loaf in your preheated oven and bake for 50–60 mins until golden brown on top. Give it a poke or two with a skewer and make sure the skewer comes out clean-pay particular attention to the batter around the pears, as this will take longer to bake.
Remove the loaf from the oven and allow it to cool slightly in the tin, then tip it out onto a cooling rack, being careful not to damage the pear stalks. Drizzle the maple syrup over the loaf while it's still warm . . . slice and serve!
Extracted from Magnolia Kitchen by Bernadette Gee. Photography by Lottie Hedley. Published by Allen & Unwin NZ. RRP $45.00.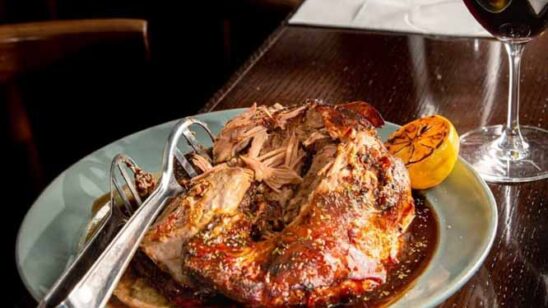 Previous Post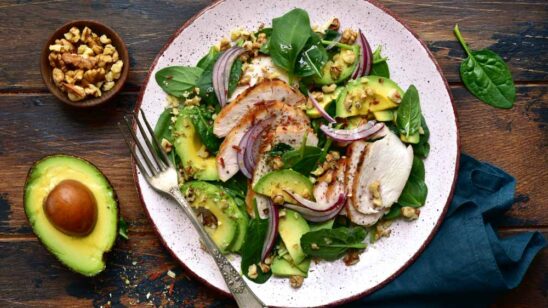 Next Post