---
We've been courting a boho aesthetic in our abodes for a while now, and with the effortless chic that a large format mirror leaning casually against a wall affords us – they are poised to play a starring role in this style narrative.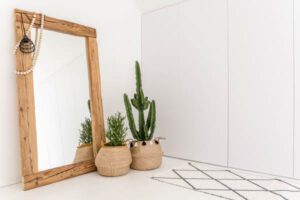 A stand-out style in any abode, the boho or Bohemian look is a welcome digression away from the conservative. Relaxed, carefree and impossibly chic, its aesthetic flies in the face of convention.
Rugs, curtains, duvets and lighting can all play their part in the ultimate boho style story, but it's the full-length or large format freestanding mirror that we've been reflecting on and we think it captures the beauty in any space.
With warm, earthy tones playing a popular role in the boho story, mirrors with natural timber frames are a stylish addition au naturel for a more coastal feel, or in a crisp white if it's a cleaner, pared back palette that features in your décor dreams. Gilded frames bring a château mood, and black metal frames feel clean and contemporary.
If wall space is limited, corners can be the ideal spot for a freestanding mirror, which can soften the overall effect of your space. Bring the outside in by angling the mirror to reflect a
window or internal greenery, making the room feel larger.
Draping a climbing plant around the mirror will provide some visual interest and some serious styling brownie points, while hanging a rustic straw hat or purse from it will further spruce up your space.
---