---
Although New Year's resolutions come in all different shapes, sizes and styles, it seems many of them lean towards health and wellness. After all, healthy body, healthy mind, right?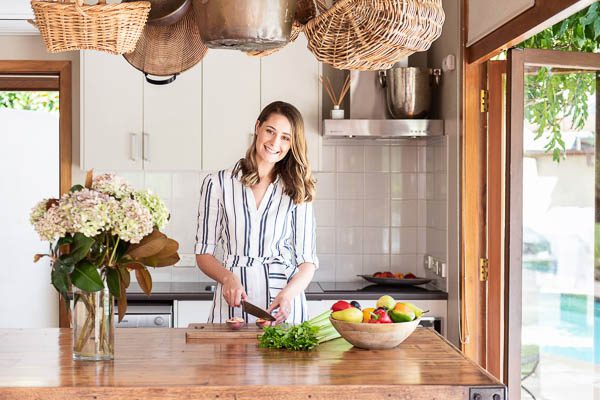 So if you're looking to make 2020 your healthiest year yet, we've got the inside scoop from women's health expert, author and speaker, Holistic Nutritionist Jessica Giljam Brown BSc, from Wellness by Jessica.
---
Can you tell us a bit about your personal journey to better health and wellbeing and how this came about?
I was diagnosed with chronic pain at age 17 after an accident and my journey began there.
It wasn't until later that I really found out how much control I had when it came to looking after myself and healing.
At university, I learned about the science of the body, the chemistry of food and the reactions that take place, but it wasn't until several years later, once I began working, that I learned about the immense healing power of food.
There is a vast array of options outside of the traditional medical matrix that can help heal the body.
It took a lot of trial and error to find exactly the right balance that worked for me; how best to reduce the inflammation that was triggering the pain, which nutrients I needed to boost to help support my mood and what steps to put in place when my pain did flare up again.
Since my early days in clinic, I have grown immensely and have been very lucky to have some really great mentors who have opened my eyes to the wider world of both natural and mainstream medicine.
I enjoy working right in the middle of natural and mainstream medicine, and pulling treatment options from both sides alongside my clients' GPs and specialists.
---
How critical is healthy eating to overall health and wellbeing?
Your food supplies the energy and nutrients you need in order for every single function in the body to happen.
Without energy and nutrients, your body can't function as it should, so it is absolutely critical to eat well in order to function well.
Food should always be the foundation when making health changes and trying to resolve issues, with sleep and stress management being on par too.
---
What are some of your favourite foods and meals that contribute to health and wellbeing?
Real food provides us with the best density of nutrients, so I try to make sure my diet is predominantly real foods, rather than processed.
Green leafy vegetables are one of my favourite food groups because they provide so many nutrients.
Kale, cabbage, lettuces, spinach, silverbeet and herbs contain vitamins A, B, C and K as well as magnesium, potassium, iron, calcium and lots of fibre.
These nutrients support all of our processes in our body.
Fat rich nuts and seeds are something I encourage everyone to increase their intake of.
The low-fat era has thankfully ended, but there still seems to be some residual fear around nuts and seeds.
These foods are rich in heart-healthy fats, vitamin E, fibre, zinc, B6 and magnesium.
These nutrients are particularly important for healthy sex hormones and skin health.
Nuts and seeds provide valuable fats to our meals to help us feel more satisfied, keeping us feeling fuller for longer.
---
You take quite a holistic approach to healthy living, so it's not all about just eating well. What are some of the other key areas we should be focusing on when it comes to looking after ourselves?
The body is affected by stress, sleep, environment, connections and relationships and movement, so all of these areas need to be focused on alongside what you eat in order to be truly well.
I work with my clients on all of these areas, pulling in extra expertise as needed.
I find that stress management and sleep improvement is what is most needed for the majority of people and is something I always address.
I encourage clients to set up relaxation practices that work for them, it could be meditation, a short yoga sequence, breathing exercises, walking, reading, or dance.
I also help them set up a sleep hygiene routine that helps them get more restorative sleep.
Once stress and sleep are better managed, I find that people can make far better choices about what they eat.
---
What's your biggest piece of advice when we start struggling with our resolutions or fall off the bandwagon completely?
Focus on getting 'more'! It's so much easier for the human brain to want 'more', so play to your strengths.
Instead of 'eat less chocolate', change the goal 'to eat more fruit', or instead of 'lose 5kgs', set goals like 'increase veggie intake to seven handfuls each day', 'walk 15-30 minutes per day', 'take a filling lunch so I don't have to buy lunch each day'.
---
What does 2020 have in store for you?
I am really excited about 2020, there is a lot happening for me both professionally and personally.
I am really proud to have a team behind me to help me bring all my ideas to life.
We have lots of women's health courses coming this year to help women resolve their hormone concerns and some couples' fertility courses to help prep couples for a healthy pregnancy.
To stay up to date with what is happening, you can follow along via Facebook and Instagram.
---