---
Fresh from the races and heading into the summer season, award-winning Christchurch designer Susi Meares, of Seventh and Figg, won best young designer at Riccarton Park Races this year and her avant-garde creations made the front page of The Press.
With the races done and dusted, we caught up with the busy mother and entrepreneur to chat all about the hat.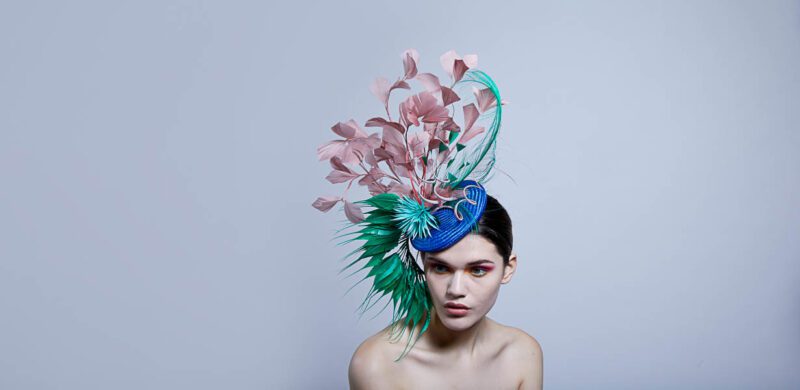 How long have you been a milliner?
I started professionally seven years ago but I have always been a lover of hats and I made my first hat for myself many years ago. I think a hat/headpiece completes an outfit just like the icing on a cake.
---
What does Seventh and Figg mean?
The name came from my travels as a young girl in New York. I was standing there wide-eyed and looked up to see a sign that read 'Corner of Seventh and Figg Street' and never forgot it.
---
What inspires your creations?
Anything from the materials I source to a beautiful fabric or amazing flowers. I often look at milliner Philip Treacy who has changed the perception of what a hat should look like and given me the confidence to know that any creation is never too much.
---
How did you feel that morning after the Addington Races and saw yourself on the front page of the paper?
For both Michael Stanton (pictured with Susi on the cover) and I, it was a huge thrill and wonderful achievement. Michael and I wanted to push the boundaries of traditional fashion and the response was extremely positive. People love to see something different which is what keeps fashion alive and new.
---
Do you have a few favourite pieces from over the years?
It is so hard to choose a favourite as I still love pieces from today and many years ago. I am currently using an all-natural material called jinsin that forms artistic lines that I am loving at the moment. The wonderful thing about most of my hats is they never date – they're timeless.
---
What does 2020 have in store for Seventh and Figg?
2020 for Seventh and Figg will be full of some great opportunities. I will be featuring in a book about creative women in New Zealand. I will continue to work with WORLD, making this my third year with the brand; Francis Hooper has some amazing ideas. I also have clients already making contact for race day 2020!
---
What do you offer your clients that keeps them coming back?
I am very fortunate to have the most gorgeous clients. Some have been coming to have hats made with me for many years and once you know your client well enough, you know exactly what their style is and what sort of hat they would like. It's my responsibility as the milliner to make sure the hat is just perfect for the client's personality and outfit.
---
What hat tricks can you give our readers to be confident and comfortable when wearing a hat?
I think the trick to wearing a hat is that there is a hat for everyone; it just has to be the exact hat for them; something that they, as the wearer, are confident in and which also brings out their personality, whether it's avant-garde or classic. If you think you are not a hat wearer, then my advice is to start small and grow from there. Also wearing the right hat can grow your confidence enormously. You can have so much fun wearing an amazing hat!
---