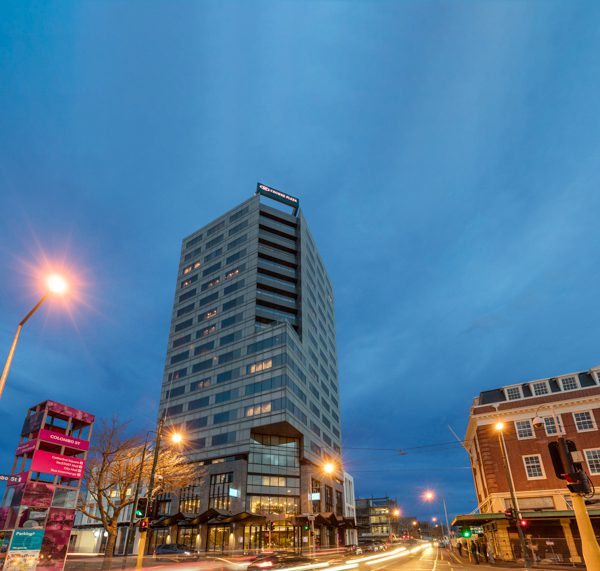 Jewel in the city's 'Crowne': Weir Architecture's glam transformation of a 1980's office block into The Crowne Plaza
Transforming a 1980's office block into a code-compliant, sophisticated hotel contains hidden complexities that the lay-person would struggle to comprehend. However, Weir Architecture Director Robert Weir achieved this feat of design, consenting, construction and ingenuity within two years, converting the Forsythe Barr building into the Crowne Plaza Hotel.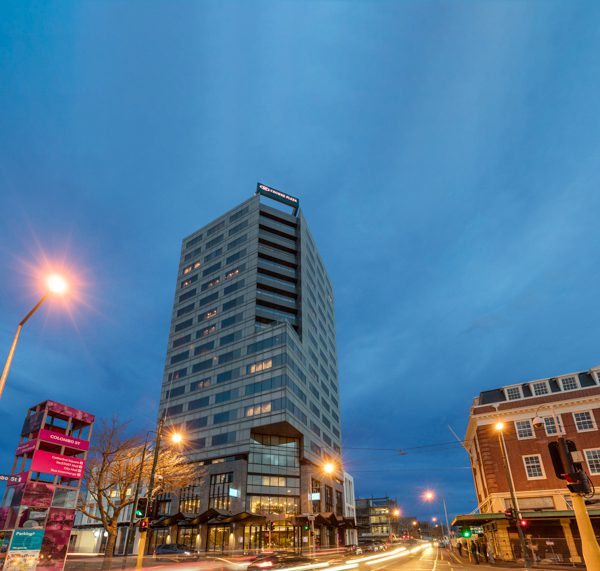 Together with a total reconfiguration, the structure had to be strengthened with engineers incorporating carbon fibre wrapping. Robert says the original architects had rotated the stair and lift shafts by 45 degrees. "Creating viable rooms out of interesting shaped spaces was challenging!"
Three lower levels are now conference rooms. Converting bars, restaurants and kitchens from car parks required a change to flat floors and working with lowered ceiling heights. One design challenge was concealing necessary additional services within the existing structure: there is a 50,000 litre water tank hidden beneath the café floor area to provide water in an emergency.
Originally the carpark wings were visually incorporated with the main tower block, but facade removal and the incorporation of a crisp white cladding now delineates them from the central tower, bringing the tower into sharp relief. Robert has brought human scale at street level with the use of multi-faceted canopies.
But Weir Architecture is also an award-winning house designer too. Robert enjoys the challenges of residential and loves working with his clients. Many clients have built three houses with him over 30 years, as their life stages changed. His modern style is softened with colour and sophisticated detailing; creating spaces that flow seamlessly is a trademark.