---
It's been a well anticipated start to 2021 for residents of Elmswood Retirement Village as the newly refurbished Avon wing reopens and is now ready for occupation. Twelve serviced units have been given a fresh, high-spec makeover.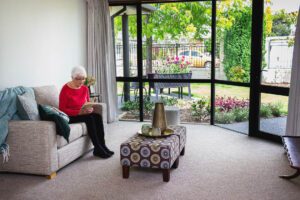 These spacious units have been designed with luxury living and entertaining in mind. Elegant furnishings blend beautifully with original features to set the tone, giving each room that extra touch of warm, welcoming ambience.
A big bonus in these serviced units is that they're all built on ground level amongst well-established gardens and mature trees, giving residents that important indoor-outdoor flow between apartment and private patio; something we kiwis take as our fundamental right, irrespective of age!
Another benefit of these serviced units is in the care package, which allows residents freedom from the dreary chores of cooking or cleaning for themselves. Hallelujah!
A cosy social hub has been incorporated into the design of the newly refurbished wing, for residents to meet up with friends or family, relax with a magazine, or just sit and watch the village comings and goings in absolute comfort.
While large retirement villages have much to recommend, there's a lot to be said for the smaller sized villages, like Elmswood. Smaller villages mean it's easier to meet people and form friendships. A popular meeting place is the newly established picking garden where you can pick your own flowers.
The beauty of Elmswood Retirement Village is that it feels like a community. Just to give and receive a smile from a familiar face in passing, makes life wonderful; that's the true community spirit.
To find out more about independent living, the Avon wing serviced units and continuum of care, phone Donna Monk on (03) 351 0974 or 021 241 9979.
Check out the virtual tour at the website below.
---