---
Rock may be in the name of this recognisable, 100 percent Kiwi owned company, but the Rockshop is far more than one genre of music. And alongside classical maestros, KBB Music, selling and renting musical instruments might be a main act – but the brand is committed to helping the musical community, too.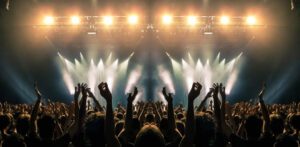 Director of Webb Group of Companies, trading as KBB Music and Rockshop, Brett Wells, says the Rockshop brand has been servicing New Zealand's musical community since 1986, with the founding "band members" still deeply involved with day to day running of the business.
KBB Music has been around since 1888, so is very well placed – and regarded – as classical and orchestral music experts in New Zealand.
"Music drives what we do," says Brett. "Everybody in the company plays a musical instrument, performs, writes, records, tours or engineers (many do all of this) whether they're running the company, servicing the product, online or working in the stores. We're all active musicians in our own right."
While music lovers are served by likeminded and skilled musicians, the company is much more than just its retail offerings, says Brett.
"The company pours significant resources every year into events, performances, artists, organisations, clinics and teaching. Supporting New Zealand musicians at a fundamental level is crucial to nurture the talent to maintain our world class creative industry."
The Rockshop has been long-time supporters of Smokefree Rockquest (from day one to be exact), Rockshop Band Quest, Show Quest and Smokefree Tangata Beats as well as other artists, organisations, events, tutoring and teaching studios.
KBB Music offers up the KBB Music Festival, Southern Jam, Christchurch Schools Music Festival and local support for the Christchurch Symphony Orchestra.
---