---
Without a doubt, North Canterbury is largely known for its delectable wine and food yet its rich array of experiences deserves some time in the spotlight, too. Metropol has collated some of the region's must-dos.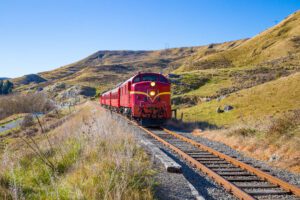 ALL ABOARD
Travel back in time on the historic Weka Pass rural railway. Spanning over 12km, take in the stunning views as you're being hauled by both vintage steam and diesel-electric locomotives. Make a family day of it with tickets for the Cottontail Express Easter Special still available.
TOUR DE WAIPARA
Experience the infamous wineries from a new perspective; on wheels. The Waipara Valley Vineyard Trail, 14.5km and roughly one to
two hours in length, allows trekkers to get a glimpse of the producing vineyards such as Ataahua Wines, Greystone and Black Estate.
MAKING A MARK
Forget the van Goghs and Picassos of the world, see where Aotearoa's art started at the Weka Pass Walkway resplendent with Maori rock drawings. The 90-minute return walk starts at 20 Weka Pass Road and requires sturdy shoes for the steep terrain. But the end result will be worth it.
---