---
We're quickly ramping up for the time of the year when we can really make the most of the Kiwi love of the outdoors. Give your outdoor living and dining zones a designer look with the latest in rattan outdoor furniture from WovenVeranda – offering both contemporary and classic collections – in the Old School Collective, Main North Road, Waikuku.
With UV-stabilised PolyCarbon woven upon commercial grade aluminium framing, it's furniture that's made to last! We've pulled together our favourite pieces.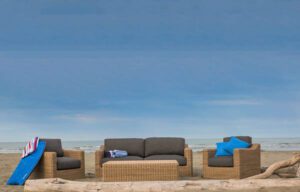 IF IT SUITES! Comprising of a chair, two or three seater sofa, or mix and match modular options, The Lagoon enables you to create your own lounge suite – sculpted to your outdoor space. This deluxe double-layered wicker suite will look the part in your space.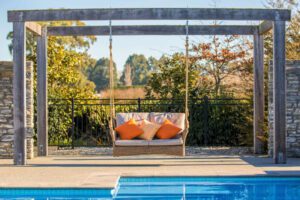 SWING HIGH: The Gentle Annie and Gentle Andy Swing Seats are the ultimate combination of tradition and trend. The Gentle Annie displays weaved lattice work and cosy cushions, while the Gentle Andy has a clean smooth line that is also accompanied by cosy cushions.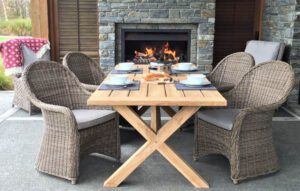 CHAIRS! We're all about versatility and the Minchin chair is just that – equally at ease paired with a dining table like WovenVeranda's Solid Teak Table (pictured) as it is sitting pretty in a conservatory, with a lower concave area from the knee down offering additional ergonomic comfort.
---