---
Alistair Bean, Managing Director at Alistair Bean & Associates says, "it's a great time to be investing in the stockmarket and managed funds".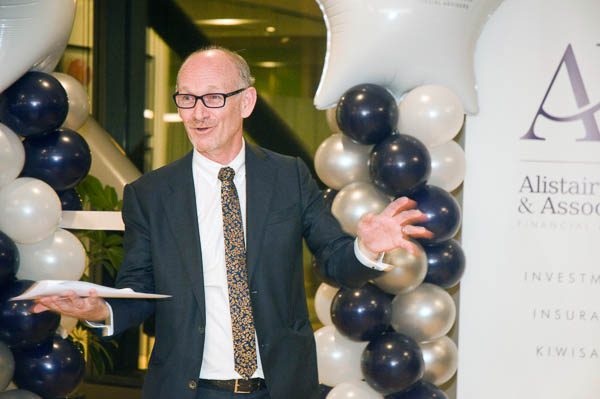 As a Financial Adviser, Alistair says, "It can be difficult to see past a media gloom fest. The current investment opportunities are driven by global low interest rates, a high New Zealand dollar and record global low unemployment. Company borrowing is therefore inexpensive, so debt can be repaid and money can be invested in things like infrastructure and staff, all of which helps to foster a growth economy."
Alistair believes he has the right formula for expanding his clients' wealth – just ask his clients, who have enjoyed absolutely stellar growth over the last number of years. Regulations restrict disclosing full data on investment returns, but it's safe to say his clients' base annual average return has gone a significant way into double digits.
"Making investment decisions for you so you don't have to."
From hour to hour, Alistair is paying very close attention to the subtle shifts in the market so that you don't have to. "I take the stress of managing your investments from you – it's a pleasure and a passion," Alistair says.
"To make sufficient wealth for clients so that time is no longer an issue."
After 37 years in finance, Alistair attributes his success to some basic investment principals he applies when contemplating promising assets to invest in:
• The share market rises and falls, creating buying opportunities for good shares at bargain prices. We aren't followers when it comes to selling shares at a time when people should be buying. News in the marketplace always affects the values of shares. The key is having the strength to buy when others are selling at a discount, and being mindful of where a share price is in its cycle.
• The market has exponentially rewarded long-term investors. Despite major hurdles like world wars, recessions, oil shocks, Trump trade wars and Brexit, equities have still significantly outperformed property, bonds, cash and inflation. You need to be in the market and stay in the market with diversification still being the key.
Alistair travels the world to see investment managers, and spends many hours each day immersed in the business of researching investment opportunities, ensuring current investments maximise clients' needs.
July saw Alistair Bean and Associates celebrating in style with their 'client family'. After nearly seven spectacular years in business, they are thrilled to have moved into fabulous new premises in the city they love in Christchurch's new West End Business Precinct. A client said to Alistair, "I was referred to you by my brother who raves about you. He was so happy, his partner and his best friend also invested with you, it's like a family".
"That's how we like it to feel too, everyone deserves great investment advice," Alistair says.
Disclosure documents are available, free upon request.
---